Review of Pedigree Chicken & Milk Puppy Dog Food 1kg
2 ★
Good product, but unfortunately whenever I order this food it is always out of stock. Poor service
Mrs. Pawar... | 07-Jun-2023
---
4 ★
As it is pedigree no need to tell there products quality because it is always best. Proper diet food for puppies.
Payel... | 26-Mar-2021
---
3 ★
The food is good. It is so hard to maintain this product from ants as it is of 10kg bag. Unless u dont have a tight container I do not recommend to buy 10kg packet. Because the package is little poor hard to keep it away from insects.
sinu... | 29-Mar-2020
---
5 ★
Baught 15KG Puppy, was good as my dog eat everything! Bt stll i trust Royal Canin more for good hlth
Sudhir Kum... | 28-Mar-2020
---
5 ★
I am not sure what difference Royal Canin holds over Pedigree but to my dog this tastes equally good (or maybe more). This was a value for money deal to me and now that I know my dog likes it I'll go for a larger pack (to save even some more). His stomach is definitely better now.
Gagan... | 27-Mar-2020
---
5 ★
The dogs love this food and its very healthy i have seen the results in 3 months itself. But i noticed that after sometime dogs get used to the taste and they don't like to have it.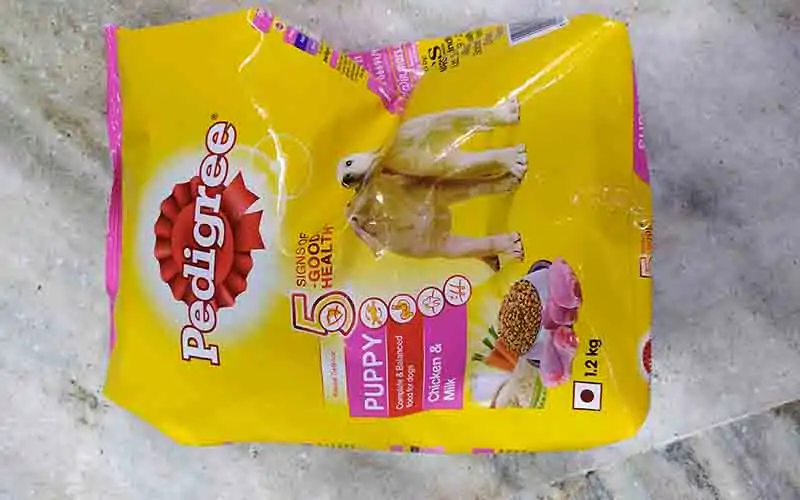 Satyam.sp... | 26-Mar-2020
---
5 ★
Simply wow... Dogs loves this. Using this from years and no problem till now. Good food for your dogs.
Abhishek... | 25-Mar-2020
---
5 ★
Best food for any dog,i am feeding pedigree to my dogs from last 12yrs and believe me i have tried many brands like drools focus,purepet,drools optimum performance,pedigree pro for large breed but the result is not up to the mark so now i am feeding chicken and milk to my rotts.they love to eat this and finish their food within 5min.highly recommended for dog owners.
Samrat... | 24-Mar-2020
---
5 ★
Balanced nutrition with decent amount of protein for puppies. Small sized food particles make it easier for small dogs to chew it. I always try to give both Pedigree & home cooked meal every day to my puppy so he doesn't become dependent on either of them.
Ron... | 23-Mar-2020
---
4 ★
1st of all I got the product on time, but their no any outer covering for the product to keep it safe from external World... Their was a Hole on the product which resulted all the rain water has entered and the water has been soaked by the granules. Though Petindiaonline india had given me replacement for the product i have disposed the product bcoz all the bacteria n other things would definitely poisonous to my dog. Hence destroyed the entire bag n getting the Another bag from Petindiaonline as replacement.. About the product, The product just maintain the Dogs health like it tries to give only minimum amount of Basic vitamins n all. The dogs do not like generally the dog food. I possible try Royal Canon dog food, id we purchase 1 kg it will be too expensive but buy 15 kg the price would drop to 470?...
Om K.... | 22-Mar-2020
---
2 ★
The palatibility of this product is bad.. Even the stray dogs around my house refuse to eat it.. I even tried mixing it with wet food but they left the kibbles as it and just licked and ate the wet food..I bought 3kg pack and I have no way to finish it off.. Never going to buy it again..
Daksh... | 21-Mar-2020
---
5 ★
Using this product for 2years now, for two difdetent pups (Spanial and Shepherd) . Nothing to say about Pedigree. Other than that packing was great, tought material also covered in outer plastic. No need to arrange a container, can be kept in the same packaging and used( taking out a few kgs at once and tieing up the rest). Best part is , 20 kg packet options provided by pedigree. You save around twenty per kg as compared to 10 kg Pack and around eighty aa compared to the MRP of 1kg pack. Until the pet is not someone else's , and guest for you, go for a 20 kg pack and feel economical.
Anusha... | 20-Mar-2020
---
3 ★
Not a very good quality dog food as it contains a lot of byproducts. My dog initially liked it but later started to refuse it. Now she only takes it for dinner. Recommended for people looking for cheap backup to home food. Would not recommend for daily use as puppy growth is not really very good. I am changing to drools focus after a lot of research.
Abhirockin... | 19-Mar-2020
---
3 ★
How come the price changed with 50 rs difference in few days. The Product MRP remains same . Bought this @472 . Now @534. Pedigree Puppy Chicken and Milk, 3 kg by Pedigree 534.00 535.00Fulfilled You Save: 1.00
Ravi... | 18-Mar-2020
---
5 ★
My 10 months old Indian Pariah puppy loves it to the core. She wud start jumping even at the sound of it being given in her bowl. It seems that if she can she wud finish d whole of it, 10kg, at one go ? Further, aftr she started tkin pedigree, her skin problem diminished & her coat shines.
Petindiaon... | 17-Mar-2020
---
3 ★
Being a first time parent to a pupper, Made a mistake buying a 10kg pack... I would recommend please try with small packs for at least 2 to 3 weeks and only go for a big pack if your puppy likes it. I tried giving it to my friend's puppy but it also seem to not like it... The packing was good, delivery was great, giving 3 stars just coz it has been completely wasted... And none of the puppies or dogs I offered it to seemed to like it...
PankajHD... | 16-Mar-2020
---
3 ★
You only get so much for the money. The major ingredients are corn & chicken byproducts. Corn is used only as a filler & it has minimal if now zero nutritional value. If you have the budget, Royal Canin is the best available in the market, followed by Drool Focus for puppies.
Srikant Ko... | 15-Mar-2020
---
5 ★
My puppy loves this to the core. He runs in circles when I mention pedigree word to it and gobbles it up in no time. The small pellets are easy for him to chew on. He smells it from afar and now knows where I store the food in my home and has been scratching the door of the cupboard where I store it. Using this as one of the meals where the second meal is home-cooked chicken or egg for him. Thanks, pedigree for making my life easier and my pup's life tastier!
Partha P M... | 14-Mar-2020
---
5 ★
It was 2nd time i ordered this 10kg pack Received in good condition ... Product is good. As it is pedigree no need to tell there products quality because it is always best. Proper diet food for puppies.
Akshay... | 13-Mar-2020
---
5 ★
Came perfectly packed. Got it to feed some street pups and dogs. They love it! Start out with a small handful & then move on to a full size portion.
Anna... | 12-Mar-2020
---
5 ★
I don't know what does this product have in it but puppies go crazy when they smell it. My puppies are just a month old, all of them and I was apprehensive it they could eat something hard and crispy as they had never eaten whole foods before but they seem to have taken a liking for it and munch on it like there is no end. Also, my dog is a first time mom and this product really helped when she did not want to feed them milk. I did not really have to put any effort in it, it draws them organically. Also, it has a great smell, so may be that is what makes them happy and crazy. Verdict - Must buy if you have puppies who are not getting enough food because of whatever reasons!
Vivek... | 11-Mar-2020
---
5 ★
I have a 5 months old GSD puppy. She likes this food and will eat it. The food is dry so I usually mix it with water or curd or both for feeding my puppy. This is a quick goto food which u could give your dog when you don't have to prepare a meal for your dog yourself. Also the nutritional facts mentioned by pedigree are impressive and my dog looks healthy so I am happy.
kannan... | 10-Mar-2020
---
5 ★
Packing was good, Product freshness was intact.no punctures to the packet and delevered at correct time. I have tried royal canine and drools focus previously. Even the Royal canine is good, it was expensive and out of my budget so used it only till 3 months. Drools focus dosent show much results even at its premium price than a drools normal or pedigree. My rottie had skin allergies when using drools focus. I had only buy that seeing <30% meat in it and no grain or fillers. But turned out to be no good. So when shifted to pedigree allergies were gone slowly and my rottie looks wonderful now. Dont believe in "corn as filler" rumers, corn is actually beneficial for dogs as per recent studies. And if you want to feed your dog a raw meat diet then do it but opting a kibble which got a high meat content is actually useless and proves unworthy. Pedigree has been fed to millions of pets around the world safely. So go for it with out a doubt.
Ravi Sheka... | 23-Jul-2019
---