Review of Large Poop Scooper For Dogs
4 ★
very nice one , easy to use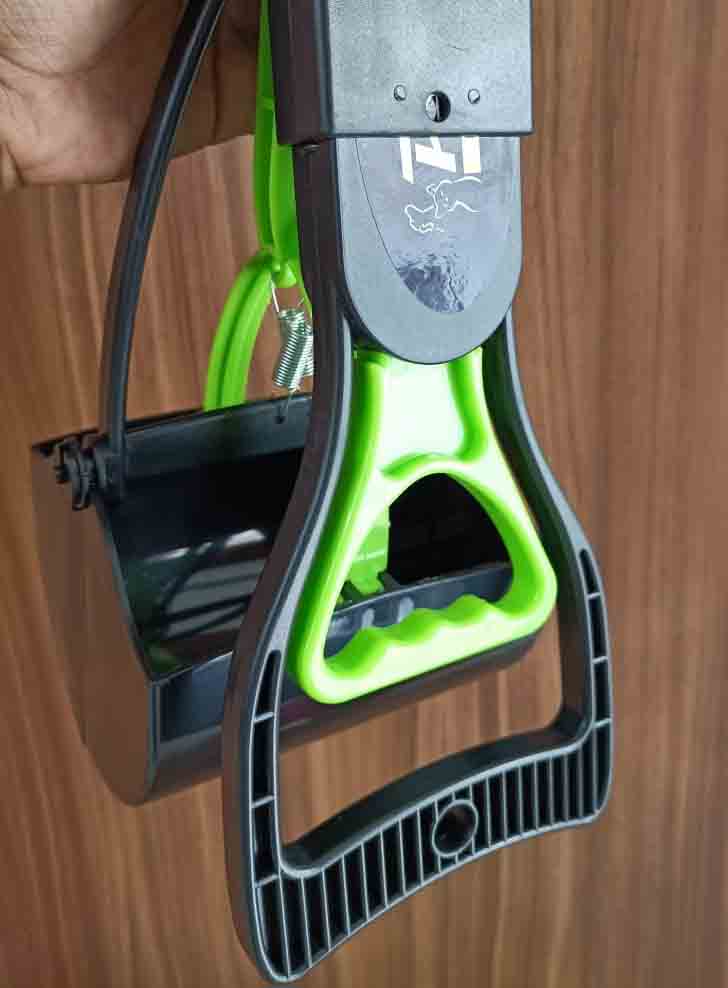 Raju Arora... | 24-May-2021
---
4 ★
Helpful device for big dog owners
Binoy pal... | 02-Apr-2021
---
5 ★
It is a mighty good thing for pet parents, and the best part is you need not bend too much to pick up poop and it is light to carry , I use the one without the garbage bags as thebpoop of my fur babies is used as fertilizer
Gunjan Pan... | 24-Sep-2020
---
5 ★
Had this product for little over a month now. It does the job as promised. Build quality could be a little better, seems a little weak at times. But overall worth the price paid for it
Sid... | 23-Sep-2020
---
5 ★
First of all quality of product is superb and easy to handle. Springs also sound durable. Overall all 5 stars.
Rajan Kaus... | 22-Sep-2020
---
5 ★
Very big and easy to use. Hope the scrapping part at bottom could be even more sharper to clean any left over on the floor as Every time potty won't be dry and hard.
Devendra... | 21-Sep-2020
---
5 ★
The first thing that one should get when they bring a new puppy home. We got this one and it is a blessing! Our pup does his business in our balcony ( and many times in our living room). This helps scoop it up all clean. We used it directly for a couple of days before starting to throw a kitchen paper towel over poop and then using this scooper. This way all the poop comes off clean. Highly recommend this. If you don't have a small/toy breed, just go for this big one. They grow up fast and poop quite a bit. You don't need to bend as well.
Doodle... | 20-Sep-2020
---
4 ★
Very easy and intuitive to use. It's being used for what it was designed i.e. rapid pick-up and disposal of dog poop with or without plastic bags. These latter are useful if the poop is less firm otherwise bags can be dispensed with (one less environmental problem), the scooper lightly rinsed and stored in a bucket for the next use. The grab action is handy and sturdy but the the other plastic cotter pins/locks and springs are flimsy. The thickness of the plastics could be increased (the bucket, e.g.) and the springs made of stainless steel. This will result in a slight increase in price but could be tolerated because the product is already quite reasonably priced. I think ?600 - 650 for a sturdier product would still be attractive. Last - but not least - the packaging was a surprising choice: Despatch was in a plastic bag when it should have been in a sturdy carton. This was the main reason why one of the plastic cotter pins sheared resulting in the product having to be replaced. The product is a good, societal contribution. The pressure is on all of us to be a bit more responsible for our pets' waste. Not only are we using it (sending out a message that doing this is not demeaning) but the lady who helps with the cleaning is very pleased, too, that this task is achieved with more dignity. Thank you.
Viney... | 19-Sep-2020
---
5 ★
Quality- Great Sturdiness- Yes it is strong. I have received it today. My puppy gave me the greatest opportunity to use it immediately. It's extremely easy to use. I can even use it for my lawn. It's a great creation. Thanks a lot to the product manufacturers. No more worries. No matter how much my puupy poops. (Extra Info) It's a time saver and no more gloves and tissues required for cleaning. I have seen the correct usage of the product it requires a polythene or some tissue over the potty then the product doesn't get dirty. Still I have planned to reduce the usage of polythene or tissue so I would rather clean it outside. Reason for not going for a walk- Rainy day. Else he poops oustside.
AB... | 18-Sep-2020
---
5 ★
Absolutely satisfied with the purchase. We have two labs and picking up their poop from our lawns and sometimes service lane does pose a messy issue but this device is long and sturdy enough to make our poop picking job very convenient....thanks Petindiaonline and seller.
Rachel Sin... | 17-Sep-2020
---
5 ★
Well satisfied with the product. Its very easy to clean. Although the material used is plastic, the product is quite strong. No more need to listen to the 'dog poop' tantrums that my neighbours used to throw before. Completely recommend this scooper to all. I recommend you buy poop bags as well so that you dont need to clean the scooper.
Ojesvi C K... | 16-Sep-2020
---
3 ★
This is very easy to use and I had ordered it again for my dog. Giving only 3 stars because I received the second one without a nut on one side. Unfortunately this is a non returnable item.
Rustam... | 15-Sep-2020
---
5 ★
My dog has this passive aggressive trait of identifying the one neighbour who is outside their house, going there, and make eye contact with them as he Poops right in the centre of their rangoli. This helps me alay any awkwardness and be responsible at the same time.
Datta... | 14-Sep-2020
---
5 ★
Great Product, nice packaging thanks petindia
Jayraj Sah... | 10-Jun-2020
---
4 ★
This pooper scooper has made my life a lot easier. We recently got a new dog and along with that comes a backyard full of poop! It is not fun scooping poop but this handy tool makes it a lot more desirable of a chore. It is very easy to use too...my 7 year old daughter uses it to scoop poop...that's a win win for this mom!
rg659118@g... | 18-Apr-2018
---