Review of Pedigree Dentastix Medium 7sticks (Dog Treats)
4 ★
good for a strong teeth.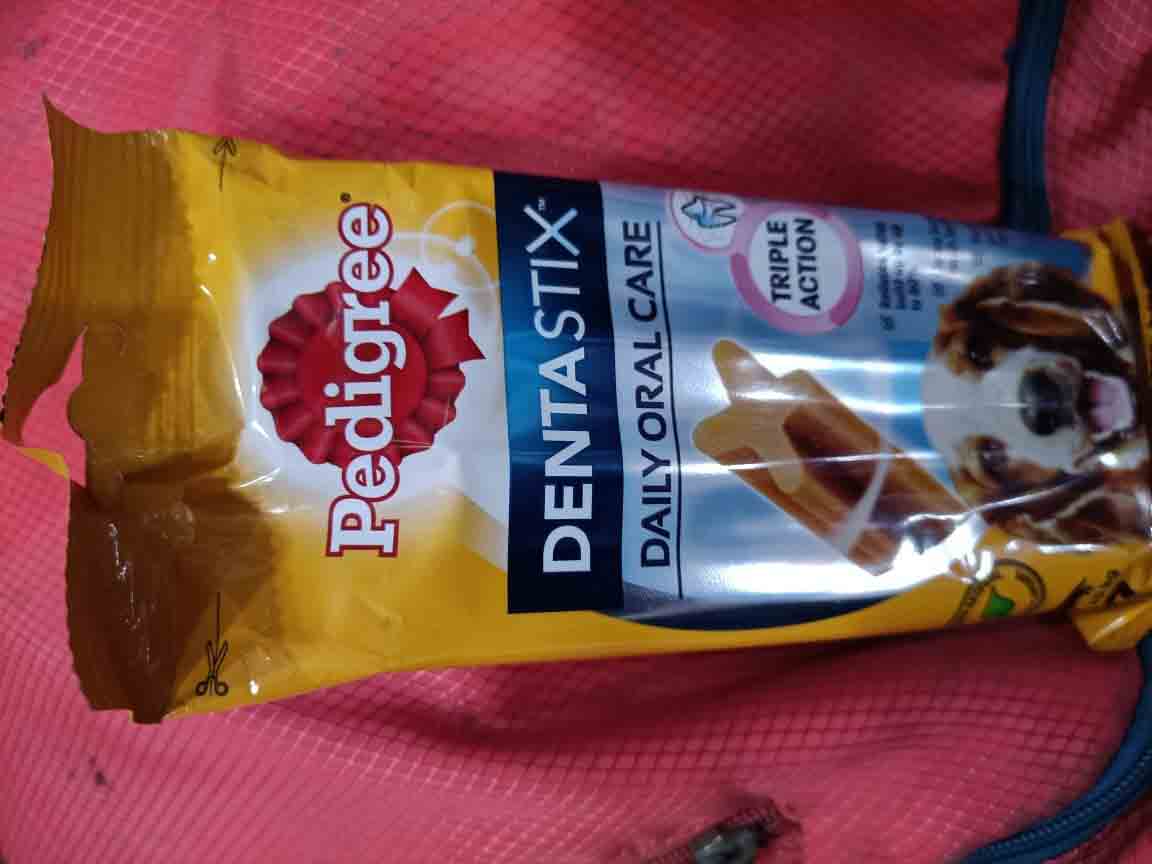 Kartik ... | 23-May-2021
---
5 ★
My dog liked it but it is little expensive
Christy... | 15-May-2020
---
5 ★
Not suitable for puppies bellow 4 months, this was not informed by Petindiaonline. Not happy with this.
Aditya Rai... | 14-May-2020
---
5 ★
Yeah he loves this sitcks
Naveen vem... | 13-May-2020
---
5 ★
My dog loves this. He goes crazy for these sticks. I give him one stick every second day. They smell amazing, and has an undertone of chocolaty minty smell.
Mansa Mudg... | 12-May-2020
---
5 ★
My doggo loves it. And this along with brushing helps keep her teeth clean.
Geralt... | 11-May-2020
---
5 ★
It helps clean the debris from my dog's teeth. Once or twice a week is good enough.
Janvi M... | 10-May-2020
---
5 ★
I don't know about the flavour as my dog never told me.... But I guess he likes it.
Suresh K. ... | 09-May-2020
---
5 ★
My chikoo (pug) like these sticks. I dont know whether it works for cleaning teeth or not but its very tasty.
Nancy... | 08-May-2020
---
5 ★
My gsd pup loves it. I could notice a difference in his breath too. He loves chewing it as it is his teething time.
anu agarwa... | 07-May-2020
---
4 ★
It's great and a must for my pups. No harmful after effects. Safe even when given daily. My furbabies absolutely love it.
Devyaani... | 06-May-2020
---
5 ★
With Petindiaonline subscribe and save I am saving a good percentage on this product. Both my dogs love it. I cannot comment on its effectiveness for dental health......
p devadas ... | 05-May-2020
---
4 ★
My dog love to eat it, depending on the weather condition whenever they like to eat according to it other than that it's fine coz haven't really seen any change regarding her teeths & gums improvement. Also, making it costlier than it was before so that's a downfall coz the company saw the demand of the product hence, saw the opportunity & increased the price which is annoying these days.
R... | 04-May-2020
---
4 ★
For a 7 month old labrador this is just a treat, can be chewed and swallowed in under 2 minutes. The Gnawlers ones can be classified more as chews. Anyhow, my pup loves this.
mandovi jo... | 03-May-2020
---
5 ★
Product is absolutely good. Dogs love this stuff. Packing needs improvement with sturdy case, because they get crushed when delivered.
Petindiaon... | 02-May-2020
---
5 ★
My pet likes it .. a good choice for better oral care ... Though different pets have different taste so m not sure dat whether u must go 4 it or not ...
sonal k.... | 01-May-2020
---
3 ★
The product is good. However, it is very important you try it with your dog before making this a regular product of use since they might not like it even. My GS liked this in the beginning but now seems he doesn't like it.
Siddhartha... | 30-Apr-2020
---
5 ★
i own a golden labrador .. he is 8 years old ...and bruno is getting mad about this ... i really don't know how it tastes but he is sitting in the front of almirah... and asking for it again and again? it might be very tasty.
Vibha kalk... | 29-Apr-2020
---
4 ★
My dog loves it, so I conclude the flavor must be good. Does stop bad breath if given daily but can't say if it's as effective for overall oral health. Price should be around 100/- to make it value for money.
gurpreet b... | 28-Apr-2020
---
5 ★
The most important thing is that my pet loves it. Next is the Petindiaonline Subscription that makes me free of running out of my pet's favorite Dentastix. The packing is always the best. The parcel is always on time. Also, the product is value for money. What else can I ask for?
Punarva B.... | 27-Apr-2020
---
4 ★
A Great Treat For Pets, My Pet liked the treat so much and I had to buy few more for him . He is Happy To Eat it Everyday.
Ankita... | 17-Jun-2020
---