Know about Breed: German Spitz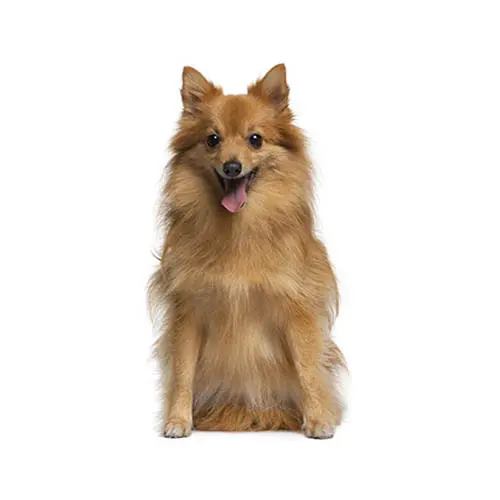 Basic information:
Life expectancy: 13 - 15 years
Origin: Germany
Height: Keeshond: 43 - 46 cm, German Spitz Mittel: 30 - 38 cm
Mass: Keeshond: 14 - 18 kg, German Spitz Mittel: 7 - 11 kg
Colors: White, Black, Cream, Black & Tan, Brown, Orange
Temperament: Devoted, Lively, Trainable, Attentive, Robust
Overview:
The German Spitz may look like a Pomeranian who got too big for his britches, but he is a distinct breed. In the United States, he comes in two sizes: Klein (small) and Mittel (medium), but other countries may consider his relatives the Pomeranian (a toy Spitz), the Keeshond (wolf spitz), and the Giant Spitz (a larger variety) as members of the same breed.
His dark eyes typically twinkle with fun as he plays with toys or goes on a quick berserker run through the house. For the most part, though, he has a moderate energy level so his exercise needs are met with a short, brisk walk or playtime every day. Although he can often go for long distances (overall health permitting, of course), he won't run you off your feet. Athletic and agile with excellent jumping skills, the German Spitz can typically do well in dog sports such as agility, flyball, nose work, obedience, and rally.
Like any spitz breed, the German Spitz can be a barker if left to his own devices, but with training, he can learn when it's okay to bark and when it's not. He generally gets along well with children, dogs, and cats, but his high prey drive can make him a danger to pocket pets or birds.
Choose the German Spitz if you like a lively dog with an independent spirit and don't object to flurries of fur when he blows coat twice a year, not to mention the hair on your clothing and furniture throughout the year. Look for another breed if your idea of the perfect dog is one who is completely obedient all the time the German Spitz is probably not for you.
Personality:
Typically lively and fun-loving, the German Spitz often has an independent streak and what is described as a slightly evil sense of humor. These traits can make him a challenge to live with unless you are able to laugh at his antics (and at yourself when he outwits you).
Make training fun or he may refuse to participate. When he's having a good time, though, he generally learns quickly and can excel at whatever you can teach him. Along the same lines, it is important to keep him occupied, or his mercurial mind can lead him into temptation and trouble. He is not typically noisy, but he can become a nuisance barker if bored.
With proper socialization and training, the German Spitz can be a people-lover, although he may be reserved at first toward strangers. It's not typical for him to be nervous or aggressive.
This breed generally gets along well with other dogs. Sometimes he plays more roughly with bigger dogs than is safe for him, so it is important to supervise his interactions with them. He can also coexist with cats, ideally if he's raised with them, but keep smaller pets away from him or they may become snacks.
The German Spitz can be a good family dog if he's raised with children, but adult supervision is still needed to ensure that young children don't accidentally injure the dog.
It's essential to meet at least one of the pup's parents as well as other relatives, if possible. This can give you a good insight into how your puppy is likely to mature. Talk to the breeder about the temperaments of dogs in her lines.
Start training your German Spitz puppy the day you bring him home. He is capable of soaking up everything you can teach him. Don't wait until he is 6 months old to begin training or you will have a more headstrong dog to deal with.
Early and extensive socialization is also important. If possible, get him into puppy kindergarten class by the time he is 10 to 12 weeks old, and socialize, socialize, socialize. It's important for your puppy to meet as many people as possible during his first four months and to be exposed to different experiences to help prevent shyness.
Health:
The German Spitz is generally healthy with an expected life span of 14 to 16 years and sometimes longer.
All dogs have the potential to develop genetic health problems, just as all people have the potential to inherit particular diseases. Run, don't walk, from any breeder who does not offer a health guarantee on her puppies, who claims the breed is 100-percent healthy and has no known problems, or who tells you her puppies are isolated from the main part of the household for health reasons. A reputable breeder will be honest and open about health problems in the breed and the incidence with which they occur in her lines.
Grooming:
The German Spitz has a double coat: a soft, woolly undercoat and a long, harsh, straight topcoat. It's especially abundant around the neck and chest, with feathering on the legs and a plumed tail.
Groom the coat with a pin brush several times a week to remove any debris and loose hairs. That helps to reduce the amount of fur on furniture and clothing. Whenever you pet your dog, check for tangles, especially where the legs meet the body.
The German Spitz coat typically sheds dirt, which makes for ease of grooming. One owner describes her dog's coat as like Teflon but notes that dogs with light-colored hair may have softer coats that can tangle more easily.
German Spitzes blow coat twice a year. Be prepared to brush more often during those times.
The rest is basic care. Trim the nails every few weeks or as needed. Brush the teeth often with a vet-approved pet toothpaste for good overall health and fresh breath.
YOU MAY ALSO LIKE