Know about Breed: Yorkshire Terrier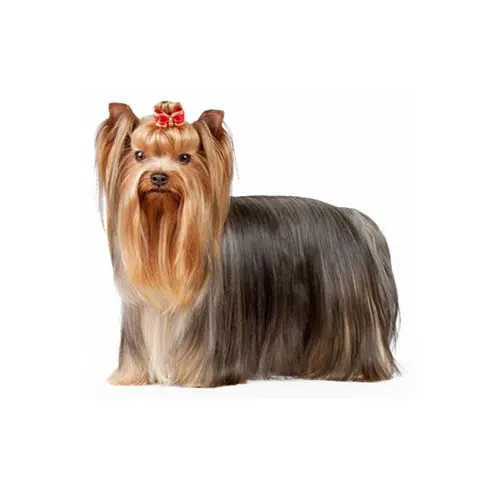 Basic Information:
Hypoallergenic: Yes.
Life expectancy: 13 -16 years.
Origin: England.
Height: Male: 18 - 23 cm (Adult, At Shoulder).
Temperament: Bold, Intelligent, Independent, Confident, Courageous.
Colors: Blue & Tan, Blue & Gold, Black & Tan, Black & Gold.
Overview:
Yorkshire Terriers have long been labeled as the preferred companions of well-heeled, older women who wouldn't deign to live in a building without a doorman, and who can't bear to be late for the local arts fundraiser. Yet there aren't enough society dames out there to account for the Yorkie's popularity. Truth is, he appeals to a wide range of dog-lovers, thanks to his shoe-button eyes and soft-to-the-touch, silky coat.
The Yorkie is alert, trainable, and insatiably curious, making him a quintessential big dog in a little dog's body. Typically weighing less than seven pounds, Yorkies are the darlings of the purse-dog set, but they also need ample time on the ground. He'll happily take long walks, and he can be quite a determined and boisterous watchdog, as well.
Personality:
Although the Yorkshire Terrier is a Toy breed, he won't settle for a boring life. The Yorkie is smart and independent, making him a dog who is both entertaining and notoriously stubborn. Yorkies want to please until something more interesting strikes their fancy. So if you really want a lazy lap dog, opt for another breed.
Yorkies have two distinct personalities: cuddly and mischievous. Cuddly Yorkies have a perky nature, but they tend to be more laidback. Some people say males are sweeter and more likely to enjoy snuggling, while females are more particular about when and if they'll hang out in your lap.
Yorkies may be tiny, but their bravery is legendary: Smokey, a World War II hero, managed to pull 70 feet of wire through an underground tunnel. Oliver, who lived in upstate New York, saved a woman from a mauling by diverting the other dog's attention. In fact, the breed's fearless nature often poses a problem for owners. Yorkies aren't shy about taking on dogs three times their size.
Most Yorkies respond well to training because they adore all the attention they receive for doing tricks and competing in agility trials. Positive praise and food rewards are key to training this breed. It's also easy to spoil a Yorkie he's just as capable of learning good manners as any other dog, but people who give their puppy a pass because he's little and cute will find that bad habits in adults are hard to break.
Health:
Tiny dogs often come with big health problems, and the Yorkshire Terrier is no exception. Most Yorkies live long, healthy lives, but there are conditions that are common to the breed, such as weakened collapsing tracheas, luxating patellas, dental issues, hypothyroidism, and Legg-Calve-Perthes disease. Low blood sugar (hypoglycemia) is also a problem especially in smaller Yorkies and puppies as well as certain types of bladder stones, hair loss, cataracts, and ingrown eyelashes.
Yorkies have a high incidence of a liver defect known as portosystemic shunt, which may need to be treated with expensive surgery. If you are concerned about your dog, there is a test that can identify carriers of the disease.
The kneecaps of many small dogs, including Yorkies, can pop out of place, a defect known as luxating patellas. Ask your veterinarian to examine your dog's knees regularly, especially if you notice him limping or hopping while running. It's also essential that Yorkies get regular veterinary dental care. Since they have tiny mouths, they often have problems with overcrowding and improper development of the teeth.
The Yorkshire Terrier can also suffer from Legg-Calv-Perthes disease. Dogs with this disease have reduced blood supply to the head of the rear leg bone, causing it to degrade. Signs include limping, which usually shows up by the time the dog is six months old. The disease can be treated with surgery, so the sooner the condition is identified and treated, the greater the chances are that your dog will enjoy a full recovery.
Grooming:
Yorkies are definitely not low-maintenance pooches. If you keep their coats show-dog long, they need to be brushed daily, with their long topknot tied up and kept out of their eyes. Most pet owners opt for a puppy clip, with the facial hair left a bit longer than the hair on the body. Regular trips to a professional groomer are a must, along with weekly baths.
On the plus side, Yorkies don't shed much, possibly making them less problematic for some people with allergies.
The rest is basic care: Trim his nails every week or two. (They should never get so long that you can hear them clicking on the floor.) And brush his teeth regularly with pet toothpaste for overall health and fresh breath.
YOU MAY ALSO LIKE