Know about Breed: Doberman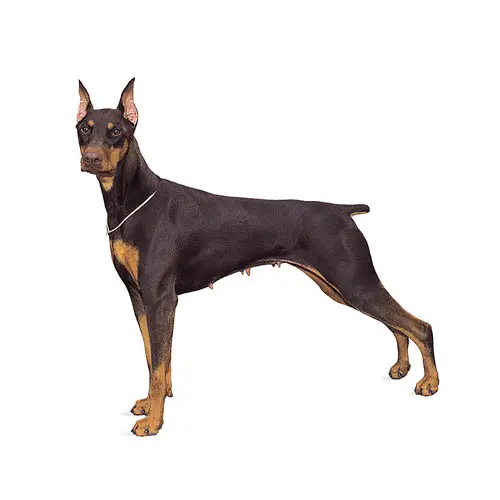 Basic Information:
Life expectancy: 10 - 13 years
Origin: Germany
Colors: White, Black, Fawn, Black & Rust, Red & Rust, Fawn & Rust, Blue, Blue & Rust, Red
Height: Male: 66-72 cm, Female: 61- 68 cm
Temperament: Obedient, Energetic, Intelligent, Fearless, Alert, Loyal, Confident
Weight: Male: 40 - 45 kg, Female: 32 -35 kg
Overview:
The Doberman Pinscher is a dog of contradictions. Although he has a reputation as a sharp and even sinister dog, his devoted fans consider him the most loving and loyal of companions. And no, "loyal" isn't a euphemism for "only likes his owner." It's the real thing, a tremendous bond between dog and human that lies at the heart of the Doberman's enduring popularity. Believe it or not, a good Doberman is a stable, friendly dog -- unless you threaten his family.
But the bad reputation isn't entirely undeserved. Health and temperament problems became a serious issue in the breed with its growing popularity, and continue to plague the carelessly bred dogs you'll find in pet stores, through Internet retailers, and at many of the big kennels advertising on the backs of magazines. If you want the steady, protective, intelligent Doberman of your dreams, be prepared to do your due diligence to find him.
A Doberman is right for you if you're ready to provide loving leadership to your dog, train him consistently and fairly and give him plenty of exercise and outlet for his considerable intelligence. And don't underestimate that intelligence: the Doberman is among the smartest of all dog breeds, and one whose owners need to pay attention lest they find themselves outsmarted. If you expect your dog to spend his days in the backyard and his evenings keeping you company while you play video games, you'd better be prepared for a barking, bored, destructive dog instead of the devoted companion you thought you were bringing into your home.
Developed as a guard dog, the Doberman has an innate ability not only to protect his family but also to anticipate danger and threats. Because he's so smart, he's not often wrong, but if the Doberman isn't socialized and trained to behave appropriately around strangers, he may show excessive suspicion of guests in your home suspicion that can turn into aggression.
Many people want a Doberman for purposes of protection, but almost no one really needs a trained protection dog most people or families simply need a watchdog and a deterrent. The Doberman's reputation, intelligence, instinctive ability to evaluate threats, and his loyalty to and innate protectiveness of his human family are all that's needed to accomplish those goals, so don't get a "trained protection dog" that you don't need and probably can't handle. A well-bred, well-trained, properly socialized Doberman who lives with his family will protect them as part of his nature.
Personality:
Doberman's qualities of intelligence, trainability, and courage have made him capable of performing many different roles, from police or military dog to family protector and friend. The ideal Doberman is energetic, watchful, determined, alert, and obedient, never shy or vicious. That temperament and relationship with people only occur when the Doberman lives closely with his family so that he can build that bond of loyalty for which he is famous. A Doberman who is left out in the backyard alone will never become a loving protector but instead a fearful dog who is aggressive toward everyone, including his own family. Never do that to a dog. When the Doberman is loved, socialized, and trained, there is no more wonderful companion.
The perfect Doberman doesn't come ready-made from the breeder. Any dog, no matter how nice, can develop obnoxious levels of barking, digging, counter surfing, and other undesirable behaviors if he is bored, untrained, or unsupervised. And any dog can be a trial to live with during adolescence.
Start training your puppy the day you bring him home. Even at eight weeks old, he is capable of soaking up everything you can teach him. Don't wait until he is 6 months old to begin training or you will have a more headstrong dog to deal with. If possible, get him into puppy kindergarten class by the time he is 10 to 12 weeks old, and socialize, socialize, socialize. However, be aware that many puppy training classes require certain vaccines (like kennel cough) to be up to date, and many veterinarians recommend limited exposure to other dogs and public places until puppy vaccines (including rabies, distemper, and parvovirus) have been completed. In lieu of formal training, you can begin training your puppy at home and socializing him among family and friends until puppy vaccines are completed.
Health:
All dogs have the potential to develop genetic health problems, just as all people have the potential to inherit a particular disease. Run, don't walk, from any breeder who does not offer a health guarantee on puppies, who tells you that the breed is 100 percent healthy and has no known problems, or who tells you that her puppies are isolated from the main part of the household for health reasons. A reputable breeder will be honest and open about health problems in the breed and the incidence with which they occur in her lines.
One of the most serious breed-related health problems in the Doberman is cardiomyopathy, which causes an enlarged heart. An annual heart exam is critical in catching this condition early, and no dog with cardiomyopathy should ever be bred. Nor should any Doberman be bred without a comprehensive heart examination by a board-certified veterinary cardiologist and OFA certification within the past year. The sad reality, however, is that a dog who tests fine one day can develop heart disease the next, and the puppy of two parents without heart disease can still develop it.
Another breed-related condition affecting the Doberman is cervical vertebral instability (CVI), commonly called Wobbler's syndrome. It's caused by a malformation of the vertebrae within the neck that results in pressure on the spinal cord and leads to weakness and lack of coordination in the hindquarters and sometimes to complete paralysis. Symptoms can be managed to a certain extent in dogs that are not severely affected, and some dogs experience some relief from surgery, but the outcome is far from certain. While CVI is thought to be genetic, there is no screening test for the condition.
Dobermans are also prone to the bleeding disorder known as von Willebrand disease, as well as hypoadrenocorticism, or Addison's disease.
Not all of these conditions are detectable in a growing puppy, and it is impossible to predict whether an animal will be free of these maladies, which is why you must find a reputable breeder who is committed to breeding the healthiest animals possible. They should be able to produce independent certification that the parents of the dog (and grandparents, etc.) have been screened for common defects and deemed healthy for breeding. That's where health registries come in.
Grooming:
Grooming is a breeze. Brush the Doberman with a slicker brush or hound glove every week, or even just run a wet towel over him. On the days he needs a bath, uses a dog shampoo, not a human product. Rinse thoroughly and let him shake dry or towel-dry him.
The Doberman sheds moderately. Regular brushing will help keep him and your home neat. As with any dog, brushing before a bath helps eliminate more dead hair, which leaves less hair to shed. Your vacuum cleaner will work longer if you brush your Doberman regularly.
The rest is basic care. Trim his nails as needed, usually every few weeks. Brush his teeth for good overall health and fresh breath.
YOU MAY ALSO LIKE