Know about Breed: New Foundland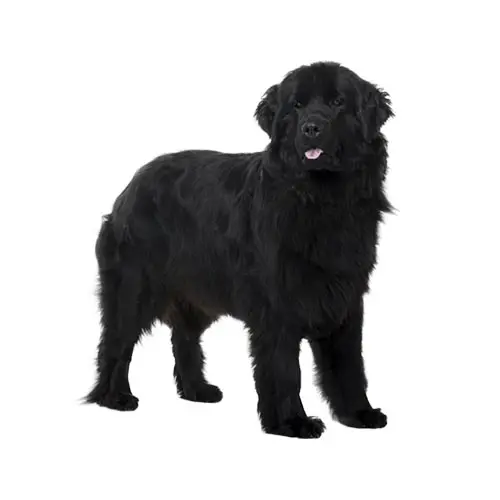 Basic Information:
Life expectancy: 8 - 10 years
Origin: Newfoundland and Labrador
Height: Male: 69-74 cm, Female: 63-69 cm
Weight: Male: 60-70 kg, Female: 45-55 kg
Colors: Black, Black & White, Grey, Brown
Temperament: Sweet-Tempered, Trainable, Gentle
Overview:
Perhaps the world's most famous Newfoundland is Nana, the canine nursemaid in Peter Pan. Although fictional, she exemplifies the breed's love of children and life-saving instincts. With a history as a working dog on fishing boats in, yes, Newfoundland, the Newfie is one of the great water dogs (with webbed feet to prove it!) and still exhibits his prowess at water rescue.
Today's Newfoundland is primarily a family companion or show dog. He has many good qualities, but his giant size and potential for health problems are factors to consider before deciding to acquire one. If you want the easygoing, patient dog that is the Newfoundland at his best, be prepared to do your homework to find him and put in plenty of effort training and socializing him once you bring him home.
The Newfoundland is calm, sweet, and friendly, especially toward children, but he can be protective if the situation calls for it. Although he's not a workaholic like some dogs, he enjoys activity, especially swimming. Canine sports in which Newfoundland participates include obedience trials; draft, tracking, and water tests; and sledding. He's also an excellent companion for a hiker or backpacker and makes a super therapy dog, being just the right height for standing at the bedside.
Sounds great, right? Not so fast! Newfoundland is a giant breed. At maturity, he will weigh 100 to 150 pounds. Giant breeds have the potential to develop serious orthopedic problems -- especially if they aren't raised carefully or if they come from irresponsible breeders, and they generally have a shorter lifespan than smaller dogs. If that doesn't bother you, Newfoundland may well be your breed of choice.
As with any dog, early, frequent socialization is essential to prevent a Newfie from becoming overly suspicious or fearful of anything new or different. Purchase a Newfoundland puppy from a breeder who raises the pups in the home and ensures that they are exposed to many different household sights and sounds, as well as people. Once certain vaccines are given and your vet gives the go-ahead, continue socializing your Newfoundland by taking him to puppy kindergarten class, visits to friends and neighbors, and outings to local shops and businesses.
Like any puppy, Newfoundlands are inveterate chewers and, because of their size, can do a whole lot of damage. Don't give them the run of the house until they've reached trustworthy maturity. Keep your Newfoundland puppy busy with training, play, and socialization experiences; a bored Newfie is a destructive Newfie.
Begin training as soon as you bring your Newfoundland puppy home, while he is still at a manageable size. Use positive reinforcement training techniques such as praise, play, and food rewards. The gentle Newfie is a willing learner, and young puppies pick up new skills rapidly when they are encouraged to do so. If you plan to teach your Newfie to swim or do water rescue, let him start playing in water -- under your watchful eye, of course -- before he's four months old.
Personality:
The Newfie is known for his intelligence, loyalty, and sweetness. Even though he is a terrific guard dog, his gentle and docile disposition makes him an excellent choice as a family dog. He thinks he's a lap dog and loves to lean on people and sit on their feet. The Newfie is a natural lifesaver and can be a good assistant for parents who have a swimming pool or enjoy taking the kids to the lake or ocean, although he should never be solely responsible for their safety.
Let it be said that the Newfie isn't perfect, his heroic nature notwithstanding. Any dog, no matter how nice, can develop obnoxious levels of barking, digging, counter-surfing and other undesirable behaviors if he is bored, untrained, or unsupervised. And any dog can be a trial to live with during adolescence. In the case of the Newfie, the teen years can start at six months and continue until the dog is about two years old.
Health:
All dogs have the potential to develop genetic health problems, just as all people have the potential to inherit a particular disease. Run, don't walk, from any breeder who does not offer a health guarantee on puppies, who tells you that the breed is 100 percent healthy and has no known problems, or who tells you that her puppies are isolated from the main part of the household for health reasons. A reputable breeder will be honest and open about health problems in the breed and the incidence with which they occur in her lines. The Newfie is prone to a host of health problems. Here's a brief rundown on a few of the things you should know.
As might be predicted, given their large size, Newfies can suffer from a number of joint and structural problems. It's important that young, growing dogs be kept lean and not allowed to exercise too strenuously or eat too much, as this will lead to injuries and problems that can be crippling down the road. In fact, all Newfoundlands need to be kept lean, as obesity increases the chances they'll develop structural problems and makes them more painful when they do occur.
One such structural problem is the genetic hip deformity known as hip dysplasia. The head of the thigh bone doesn't fit properly into the hip socket; over time the joint cartilage wears away and the underlying bone suffers damage. Severe arthritis results, often affecting very young dogs. In some cases, expensive surgery is required, including total hip replacement surgery. Untreated, the dog will suffer pain and poor quality of life. Elbow dysplasia is another inherited joint problem, resulting from abnormal formation of the elbow.
The possibility of a Newfie developing hip or elbow dysplasia can not be ruled out entirely just because the parents were free of the condition, although it reduces the chances. And while a puppy's bones are still growing, it can sometimes be difficult to confirm a diagnosis, depending on which tests are performed and how severe the condition is.
Grooming:
The Newfoundland has a water-resistant double coat of black, brown, gray, or Landseer (white with black markings). Using a steel comb and wire slicker brush, groom the coat at least a couple of times a week to prevent mats and remove dead hair.
Newfies shed, and regular brushing will help reduce the amount of hair floating around your house. Twice a year, in spring and fall, they shed heavily, called a blowing coat. Plan to spend additional time brushing to keep all the hair under control.
Newfies also drool, so get in the habit of carrying around a hand towel so you can wipe your dog's mouth as needed, especially after he eats or drinks. Bathe the Newfoundland when he's dirty.
The rest is basic care. Trim the nails as needed, usually every week or two. Brush the teeth frequently with a vet-approved pet toothpaste for good overall health and fresh breath. Most importantly, keep this water-loving dog's ears clean and dry to help prevent ear infections.
YOU MAY ALSO LIKE