Know about Breed: Irish Wolfhound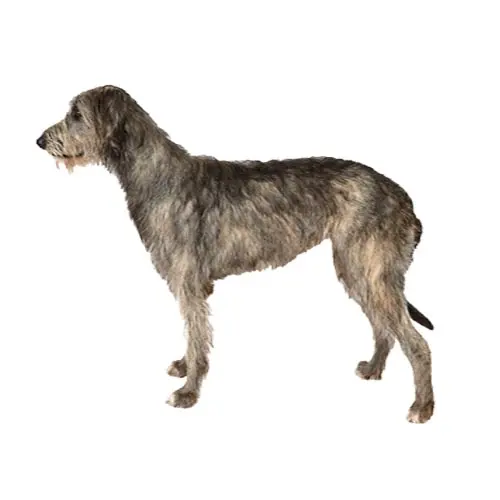 Basic Information:
Hypoallergenic: No
Life expectancy: 6 -10 years
Origin: Ireland
Scientific Name: Canis lupus familiaris
Temperament: Thoughtful, Dignified, Patient, Sweet-Tempered, Generous, Loyal
Colors: Black, White, Brindle, Fawn, Grey, Red
Overview :
The Irish Wolfhound stepped straight out of a medieval tapestry. His name implies ferocity, but he is the gentlest of creatures. Considering his giant size of 105 to 120 pounds it's an essential characteristic. The Irish Wolfhound has many wonderful traits, but he is by no means for everyone. His giant size and tragically short lifespan are just two of the factors you should consider before taking one into your family.
This is a giant breed. That gangly 20-pound puppy will eventually weigh as much as 120 pounds, sometimes more. If your home is reached by stairs, think twice before getting this breed. How will you get him up and down if he is incapacitated? His huge size is often what attracts people, but the tradeoff is a heartbreakingly short life span of six to eight years.
There's another aspect to a Wolfhound's size to consider: He's a counter surfer and will swipe those steaks on the table without a second thought. Finally, it is expensive to own a giant breed. Food, veterinary, and boarding costs are all greater than those for a dog of moderate size. Of course, if none of that fazes you, an Irish Wolfhound maybe your dog of choice.
Choose the Irish Wolfhound if you have a spacious home with a large fenced area where he can run safely. Be prepared to share your furniture with him or provide plenty of cushioned resting places. His large, bony body can develop calluses if he is forced to lie on hard surfaces, and he needs plenty of room to spread out.
Because of their size, Irish Wolfhound puppies can be particularly destructive when left to their own devices. Don't blame the puppy if you come home to find your sofa gobbled up. You need to have a safe room where he can't destroy anything. Long hours in a crate are detrimental to a Wolfhound's development.
The Irish Wolfhound needs to live in the house, with access to soft furniture or bedding.
Personality :
His great size notwithstanding, the Wolfhound is known for his quiet manners and gentle nature. This alert and courageous dog would defend his family with his life and does not tend to be aggressive. Fortunately, his size is enough to deter many would-be intruders or assailants.
Toward one and all, including children, strangers, and other dogs, he tends to be calm, intelligent, dignified, and friendly. That said, his great size may make him unsuited to homes with toddlers. Nor is it appropriate to let children ride the Wolfhound. He isn't built for that and it can cause back injuries.
For exercise, he'll enjoy a long daily walk, as well as an opportunity to run full-on in a traffic-free area. When it comes to dog sports, Wolfhounds are found competing in obedience and tracking, but it's on the lure coursing field that they take your breath away. Wolfhounds will adapt to your level of activity, but they shouldn't be allowed to become couch potatoes. Lack of exercise can cause them to put on weight, which is injurious to their joints.
Sighthounds are attracted by movement, and the Wolfhound will happily chase cats and other small furry animals if he sees them running. If he is brought up with other animals from an early age, though, the dog can live amicably with cats or small dogs. Even so, it's best to supervise them when they're together and to separate them when you're not home. Don't let them outside together. They may be best buds indoors, but the instinct to chase and kill a running cat outside may be too strong for the dog to overcome.
Train your Wolfhound with positive reinforcement techniques such as praise, play, and food rewards. He is smart and learns quickly when he has the right motivation.
Start training your puppy the day you bring him home. Even at eight weeks old, he is capable of soaking up everything you can teach him. Don't wait until he is 6 months old to begin training or you will have a more headstrong dog to deal with. If possible, get him into puppy kindergarten class by the time he is 10 to 12 weeks old, and socialize, socialize, socialize. However, be aware that many puppy training classes require certain vaccines (like kennel cough) to be up to date, and many veterinarians recommend limited exposure to other dogs and public places until puppy vaccines (including rabies, distemper, and parvovirus) have been completed. In lieu of formal training, you can begin training your puppy at home and socializing him among family and friends until puppy vaccines are completed.
Health :
All dogs have the potential to develop genetic health problems, just as all people have the potential to inherit the disease. Run from any breeder who does not offer a health guarantee on puppies, who tells you that the breed has no known problems, or who keeps puppies isolated from the main part of the household for health reasons. A reputable breeder will be honest and open about health problems in the breed and the incidence with which they occur.
In Irish Wolfhounds, health problems include hip and elbow dysplasia, cardiomyopathy, osteosarcoma, liver shunt, hypothyroidism, von Willebrand's disease, progressive retinal atrophy, and gastric torsion.
Hip and elbow dysplasia are joint problems that can cause lameness. They may be mild or severe, and severe cases require expensive surgical repair to spare the dog life of pain.
Cardiomyopathy causes an enlarged heart. Regular veterinary exams are critical in catching this condition early, and no Irish Wolfhound should be bred without a comprehensive heart examination by a board-certified veterinary cardiologist and OFA certification in the previous year. Affected dogs should not be bred. The sad reality, however, is that a dog who tests fine one day can develop heart disease later on, and the puppy of two parents without heart disease can still develop it. Regular veterinary exams can increase the chances of catching and treating the problem early.
Irish Wolfhounds also suffer from a very high rate of bone cancer (osteosarcoma), usually in one of their legs. It's not known exactly why this is, but there is almost certainly some genetic component.
Grooming:
The Wolfhound has a rough coat that is especially wiry and long over the eyes and beneath the jaw. Extensive grooming is done to give the dog a perfect appearance in the show ring, but for a pet owner, the coat is easy to maintain. There's just a lot of dogs to groom.
Brush or comb the shaggy, wiry coat once or twice a week to remove dead hair and prevent or remove any mats or tangles. The double coat sheds moderate amounts year-round but doesn't go through a heavy annual or biannual shed. A bath is rarely necessary.
The rest is basic care. Trim the nails as needed, usually every week or two. Brush the teeth frequently with a vet-approved pet toothpaste for good overall health and fresh breath.
YOU MAY ALSO LIKE