Know about Breed: Weimaraner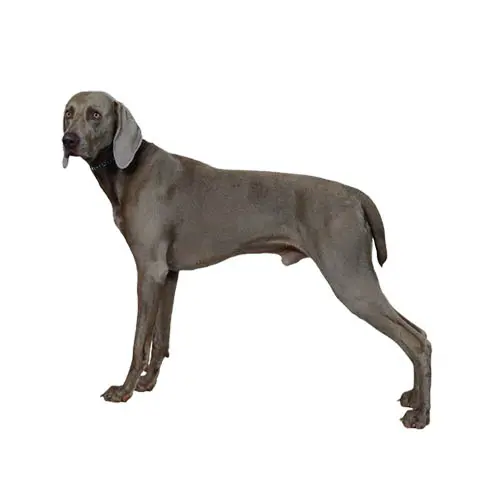 Basic Information:
Life expectancy: 11 - 14 years
Origin: Germany
Temperament: Stubborn, Aloof, Energetic, Intelligent, Steady, Alert, Powerful, Fast
Colors: Mouse-gray, Silver-gray, Silver
Height: Female: 59-63 cm, Male: 62-67 cm
Weight: Female: 25-35 kg, Male: 30-40 kg
Overview :
You may not know his name, but you probably recognize his silvery gray snout and long ears, a face made famous by Weimaraner photographer William Wegman. His distinctive look aside, the Weimaraner isn't an ornament he's an active dog, with a deep need to hunt and connect with his human family.
In fact, there are two things a prospective owner needs to know about the Weimaraner: He has no off switch, and he's not happy when left alone. Bred in Germany as a hunting dog and a family companion, the Weimaraner would love nothing more than to spend the day hunting with you all day long, every single day. Failing that, he'll settle for obedience training, agility, hiking, or participating in canine sports, just as long as it means that he can be active with you.
If you're getting the idea that Weimaraners tend to attach to their owners like Velcro, you're right. Separation anxiety is a serious problem in this breed; some Weimaraners become so distraught when left to their own devices that they bark, dig, escape, and even injure themselves. They can also be stubborn, demanding, and tough to house-train. They're frequently a hazard to cats and other small pets, and if they don't get a lot of daily exercises, they go stir crazy.
Personality:
Weimaraners are devoted dogs who want to be with people all of the time, which can be unnerving. But if you enjoy always having a dog by your side and can spare plenty of time for hiking, jogging, or hunting the Weimaraner can be an ideal canine sidekick.
His personality can range from in-charge to laidback. Males tend to be sweet, while females have more spunk. Puppies with more prey drive and independence do well in the field, while those who are easygoing and upbeat are best suited for companion homes. If you're hoping to show, opt for puppies with outgoing and confident attitudes. And if you pick up a puppy and he doesn't settle down in your arms quickly, it is a clue that he's going to be highly energetic the same is true if he bosses the other puppies so think long and hard about whether he's the right kind of dog for you. For most of us, the best choice is the nice, middle-of-the-road puppy who is neither too bossy nor too shy.
As lovable as he is, the Weimaraner can be high-maintenance. He needs lots of social interaction and reassurance to establish that confident, devoted Weimaraner attitude. He'll also introduce you to two fundamental laws of nature: A Weimaraner at rest is bored and a bored Weimaraner is destructive. So plan to keep him busy or he'll put his own plan into action like noshing on rugs and walls and you probably won't like it.
Weimaraners enjoy running, hunting, going for walks, boating, swimming essentially anything, as long as it involves being with you. (Tip: These dogs live to chase any object that moves, including runners, bikers, kids, and other animals, so confine him to a safely fenced yard and always walk him on leash.) When it comes to dog sports, they love agility, tracking, and hunt tests. In fact, be prepared for gifts of dead things: frogs, birds, the nice cat that's been hanging around the yard. Your Weimaraner doesn't know that she's your neighbor's cat; he's primed to hunt furry things and that's what he does. And never reject his gifts or punish him, which could severely damage your relationship.
Health:
All dogs have the potential to develop genetic health problems, so it is important to choose your breeder wisely. Weimaraner breeders should know about several conditions, including hip dysplasia, hypothyroidism, tricuspid dysplasia (a congenital heart disease), and eye problems like corneal dystrophy and entropion.
Weimaraners can also have elevated levels of uric acid in their urine, predisposing them to form painful bladder and kidney stones, which may require surgery. This condition, known as hyperuricosuria, is inherited. A DNA test for the condition is available from the University of California at Davis Veterinary Genetics Laboratory.
Not all of these conditions are detectable in a growing puppy, and it can be hard to predict whether an animal will be free of these maladies, which is why you must find a reputable breeder who is committed to breeding the healthiest animals possible. They should be able to produce independent certification that the parents of the dog (and grandparents, etc.) have been screened for these defects and deemed healthy for breeding. That's where health registries come in.
Grooming:
The Weimaraner's short coat is easy to maintain: Brush it with a rubber curry brush at least once a week. The brush removes dead hairs that would otherwise end up on your floor, furniture, and clothing. Weimaraners shed, so the more you brush, the less hair you'll have flying around. And bathe your Weimaraner only when he's dirty, which shouldn't be very often.
The Weimaraner is a hunting dog, so good foot condition is important. Keep his toenails trimmed short. Last but not least, brush his teeth with a vet-approved pet toothpaste for good overall health and fresh breath.
YOU MAY ALSO LIKE