Know about Breed: Saint Bernard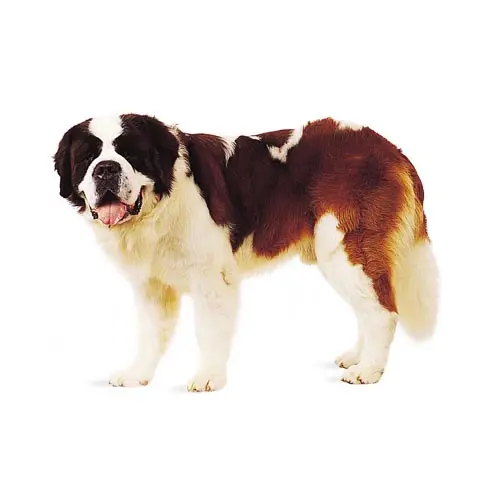 Basic Information:
Life expectancy: 8 - 10 years
Mass: 64 - 120 kg
Colors: Red & White, Reddish-brown Brindle, Reddish-brown Splash, Reddish-brown Mantle, Brownish-yellow
Height: Male: 70-90 cm, Female: 65-80 cm
Temperament: Lively, Friendly, Gentle, Watchful, Calm
Origin: Switzerland, Italy
Overview:
No, Saint Bernard never wore a miniature brandy keg around his neck. The image was merely the product of artistic license taken by Edwin Landseer, who painted a portrait of the breed while visiting Switzerland in 1819. The public loved it, and the brandy keg remains a symbol of the breed to this day.
It's true, though, that monks at the hospice of Saint Bernard, high in the Swiss Alps, used the dogs to seek out and rescue lost travelers. These days, the Saint is primarily a family companion or show dog, beloved for his calm and patient temperament. Saint Bernard has many good qualities, but (even if breeding is the best it can be) he may also have health and temperament issues. If you want the calm, protective dog of legend, be prepared to do a lot of homework to find him and put in plenty of effort training and socializing him once you bring him home.
Saint Bernard is a member of the Mastiff family, as evidenced by his huge head and tall, powerful body. He is gentle, but his size alone is enough to deter many would-be intruders or assailants. He is only moderately active, making him suited to homes with small yards. He drools and is sensitive to heat, so he must live in air-conditioned comfort in hot climates.
This is a giant breed. A 25-pound Saint Bernard puppy certainly looks manageable, but he will eventually weigh 120 to 180 or more pounds. His huge size is often what attracts people to him, but the tradeoff is a heartbreakingly short life span of approximately 7 to 10 years. And if you reach your home by stairs and should ever need to haul him up and down, you might be in trouble. If none of that fazes you, a Saint Bernard may well be your dog.
Contrary to his size, Saint Bernard's food and exercise needs are modest. He doesn't eat more than any other large breed dog, and he will be satisfied with a couple of short walks daily. Like any dog, Saint puppies are inveterate chewers and because of their size can do more damage than puppies of other breeds. They are prone to ingesting items such as socks and dish towels, resulting in veterinary visits or even surgery for intestinal blockages.
Though you might think of him as an outdoor dog, Saint Bernard loves his people and will pine without human companionship. They are also prone to heatstroke and should never be left outdoors for a long time in hot weather. Saints should have access to a securely fenced yard, but when the family is home, the dog should be with them indoors.
Personality:
The ideal Saint lives up to his name: he is calm, patient, and gentle. He doesn't need to be aggressive toward strangers; his size alone is enough to scare most people away.
The Saint can be a great choice for families with kids. He's certainly big enough that a little roughhousing isn't going to hurt him. On the flip side, he's big enough to accidentally knock over a toddler, so it might be best to wait to get one until the kids are in school.
Saints are only moderately active and don't need big yards or lots of exercises, although like any dog they enjoy a good walk every day. Dog sports in which they can excel include pulling a cart, known as drafting; weight pulling, the canine version of a monster-truck event; and obedience trials. Some are involved in tracking. Naturally, they make excellent therapy dogs, being the perfect height to stand at the bedside and be petted.
The perfect Saint doesn't come ready-made from the breeder. Any dog, no matter how saintly, can develop obnoxious levels of barking, digging, counter-surfing, and other undesirable behaviors if he is bored, untrained, or unsupervised. And any dog can be a trial to live with during adolescence. In the case of Saint Bernard, the teen years can start at 9 months and continue until the dog is about 18 months old. Fortunately, Saint Bernards are sensitive, smart, and want to please.
Begin training as soon as you bring your Saint puppy home, while he is still at a manageable size. Saints are sweeties, but they can also be stubborn. Teach your puppy to look to you for guidance, and be patient. Saints like to think things through before they act. Use positive reinforcement training techniques such as praise, play, and food rewards. Even if force did work with Saints, which it doesn't, your pup would soon be too large for you to push around. If possible, get him into puppy kindergarten by the time he is 10 to 12 weeks old, so you can start building a strong relationship. However, be aware that many puppy training classes require certain vaccines (like kennel cough) to be up to date, and many veterinarians recommend limited exposure to other dogs and public places until puppy vaccines (including rabies, distemper, and parvovirus) have been completed. In lieu of formal training, you can begin training your puppy at home and socializing him among family and friends until puppy vaccines are completed.
Once your vet gives the go-ahead, socialize, socialize, socialize. Saint Bernards are cautious as a rule and that caution can tip over into shyness. Early, frequent socialization is essential to prevent them from becoming overly suspicious or fearful of anything new or different. Purchase a Saint puppy only from a breeder who raises the pups in her home and ensures that they are exposed to many different household sights and sounds, as well as people before they go off to their new homes. Continue socializing your Saint by taking him to visit friends and neighbors, and on outings to dog-friendly shops and businesses.
Health:
All dogs have the potential to develop genetic health problems, just as all people have the potential to inherit a particular disease. Run, don't walk, from any breeder who does not offer a health guarantee on puppies, who tells you that the breed is 100 percent healthy and has no known problems, or who tells you that her puppies are isolated from the main part of the household for health reasons. A reputable breeder will be honest and open about health problems in the breed and the incidence with which they occur in her lines.
Saint Bernard can develop certain health problems including hip and elbow dysplasia, cardiomyopathy, cancers such as osteosarcoma (bone cancer), eye problems such as entropion and ectropion, osteochondrosis (an orthopedic problem), hypothyroidism, and gastric torsion (bloat). Here's a brief rundown on a few of the problems you should know about.
As you might guess, given their large size, Saint Bernards can suffer from joint and structural problems. It's important that young, growing Saints be kept lean and not allowed to exercise too strenuously or eat too much. Both can lead to injuries and problems that can be crippling down the road. In fact, all Saints need to be kept lean, as obesity increases the chances they'll develop structural problems and makes the problems more painful when they occur.
Hip dysplasia is a genetic deformity in which the head of the thigh bone doesn't fit properly into the hip socket. Over time, joint and bone damage occurs, leading to arthritis and other complications. Severe cases usually require surgery. Untreated, the dog will suffer pain and lameness. Elbow dysplasia is a similar condition affecting the elbow.
It's impossible to know if a dog has hip or elbow dysplasia simply from examining him or watching him move. Nor can hip and elbow dysplasia be ruled out entirely just because the parents were free of the condition, although it reduces the risk.
Osteochondrosis is another inherited orthopedic condition that can affect Saints and many other breeds. It's a defect in the formation of growing cartilage that causes it to fragment. It usually appears in dogs younger than 1 year.
Grooming:
Saint Bernards come in two coat types: shorthaired and longhaired. The shorthaired Saint has a dense, smooth coat. His longhaired brother has a medium-length coat that is slightly wavy. Either coat type can be white with red or red with white.
Both varieties shed heavily in spring and fall and need weekly brushing year-round to keep loose hair under control. It's probably a good idea to brush a longhaired Saint a couple of times a week.
Clean the ears and trim the nails as needed, and bathe the Saint when he's dirty. You'll want to wipe his mouth after your Saint eats or drinks before he shakes his head and slings water, drool, or food debris everywhere. Brush his teeth with a vet-approved pet toothpaste for good overall health and fresh breath.
YOU MAY ALSO LIKE