Know about Breed: Saluki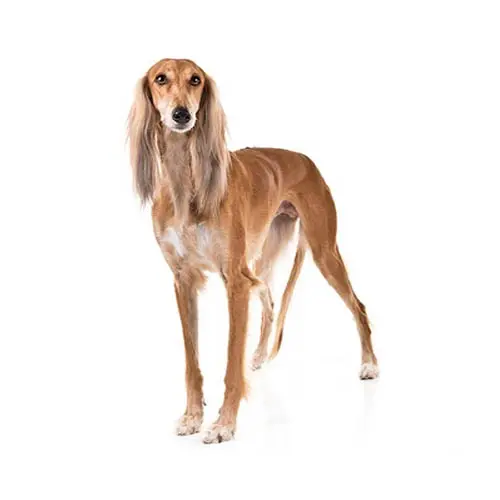 Basic Information:
Origin: Fertile Crescent
Speed: 69 km/h (Maximum, Adult)
Life expectancy: 12 - 14 years
Height: 58 - 71 cm (Adult, At the withers)
Temperament: Aloof, Reserved, Intelligent, Quiet
Colors: White, Fawn, Cream, Tan, Gold, Red
Overview:
Lots of breeds claim to have an ancient heritage, but the Saluki's has been proven through DNA evidence. He is one of 14 breeds to show the fewest genetic differences from wolves. The Saluki is aloof and elegant, but he is a hunter at heart. He was bred to course hare and gazelle over desert terrain and his Bedouin companions considered him noble, above other dogs. Today, this medium-size sighthound, weighing 35 to 65 pounds, still has a strong instinct to run and chase.
Don't purchase a Saluki if you want a dog who will constantly express his affection for you. That's not Saluki's style. He may love you, but he will assume that you know it and don't need reminders.
Not surprisingly, the Saluki needs daily exercise. A long walk on a leash might do once in a while, but what he really wants is the opportunity to run flat out in a large, safely enclosed space. He's a natural at lure coursing, so consider taking up that sport as a means of channeling his athletic ability and speed. The Saluki can also be found competing in agility, obedience, and rally, and some are therapy dogs. As always, consult your veterinarian before beginning any exercise program with your dog.
When his exercise needs are met, the Saluki is a calm, quiet companion who likes to have access to soft bedding or furniture to cushion his bony body. The Saluki is likely to be gentle with children, but he's not really a playmate kind of dog.
The Saluki is a typical sighthound in that he thinks for himself, steals food whenever and wherever it's available, chases and kills cats, squirrels, goats, and other animals at every opportunity, and can jump anything less than a six-foot fence. And forget about an underground electronic fence that gives a shock when the dog crosses it. He may just blow right through it.
Personality:
Bred to run down game from hare to gazelle, Salukis run first and ask questions later. Like men, they never stop to ask directions, because awaiting a human command would enable the prey to escape. Saluki owners must be careful that off-lead runs are in an area that is fenced or away from wildlife. Salukis can live safely with cats, as long as they're part of the family. Strange cats may be subject to the chase.
Salukis enjoy any game that involves high-speed running, although most games of fetch don't involve bringing the ball back. That's okay with most owners; there is probably no more beautiful dog to watch run.
Lounging is one of Saluki's best talents. They are not high-energy dogs and they will not follow you from room to room. Salukis consider creature comforts an entitlement. If you can't stand a dog on your furniture, you'll probably lose that fight. Fortunately, they shed little, have almost no doggy odor, don't drool excessively, and tend to be meticulously clean. Unless they find something to roll in. And that model-thin figure? That's their own choice. They watch their own weight, and many must be enticed to eat.
If you dream of Lassie-like obedience and adoration, you're dreaming of another breed. Salukis can be trained with positive methods, but they prefer to obey at their own speed -- and whim. But then, they really don't do much wrong (aside from running away when called). They don't drag you down the street, bark excessively, or jump up and down in hyperactive frenzies. They do dig.
Salukis are one-person, or one-family, dogs and tend to ignore -- or be shy of -- strangers. No kisses on the first date. Or fifth. They are likely to be gentle with children, but may not be playful enough to satisfy a child.
Health:
All dogs have the potential to develop genetic health problems, just as all people have the potential to inherit a particular disease. Run, don't walk, from any breeder who does not offer a health guarantee on puppies, who tells you that the breed is 100 percent healthy and has no known problems, or who tells you that her puppies are isolated from the main part of the household for health reasons. A reputable breeder will be honest and open about health problems in the breed and the incidence with which they occur in her lines.
Salukis are in general a healthy breed of dog, but they do have some health conditions that can be a concern, especially if you aren't cautious about whom you buy from. They include eye problems (like progressive retinal atrophy, corneal dystrophy, and glaucoma), von Willebrand disease (a blood clotting disorder), and hypothyroidism.
Not all of these conditions are detectable in a growing puppy, and it can be hard to predict whether an animal will be free of these maladies, which is why you must find a reputable breeder who is committed to breeding the healthiest animals possible. They should be able to produce independent certification that the parents of the dog (and grandparents, etc.) have been screened for these defects and deemed healthy for breeding.
Grooming:
The Saluki comes in two coat types: smooth and feathered. Brush the smooth coat weekly, but if you have the feathered variety, comb the feathering on the ears, tail, legs, and feet at least a couple of times a week to prevent or remove mats and tangles, and bathe him as needed. At mealtime, you'll probably want to put his ears up in a snood to keep them from dragging in his food dish. A water bowl with sides that slope inward at the top will help prevent the ears from getting wet when he drinks.
The rest is basic care. Trim the nails as needed, usually every week or two. Keep the ears clean and dry. Check them weekly for redness or a bad odor that might indicate infection. If the ears look dirty, wipe them out with a cotton ball moistened with a mild pH-balanced cleanser recommended by your veterinarian. Brush the teeth frequently with a vet-approved pet toothpaste for good overall health and fresh breath. Introduce your Saluki puppy to grooming from an early age so that he learns to accept it with little fuss.
YOU MAY ALSO LIKE