Know about Breed: Jack Russell Terrier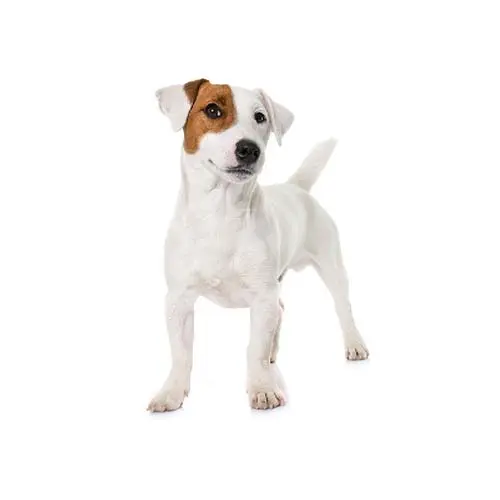 Basic Information:
Life expectancy: 13 - 16 years
Height: 25 - 38 cm (Adult, At the withers)
Mass: 6.4 - 8.2 kg (Adult)
Origin: England
Temperament: Stubborn, Energetic, Intelligent, Fearless, Athletic, Vocal
Colors: White, Black & White, White & Tan
Overview:
If you're wondering why your Jack Russell isn't as well-behaved as Eddie or Wishbone, it's because the dogs that portray those characters have full-time trainers on staff to keep them in line. More to the point, those dogs had full-time jobs, which is what the JRT wants and needs. His endless desire to be digging, barking, and investigating can't and shouldn't be squelched. It should be celebrated by someone who loves the very traits that drive many JRT owners insane.
Those traits include a tremendous drive to dig something bred deep in the Jack Russell. It is the legacy of his legitimate work eradicating vermin on the farms where he originated. He'll excavate your garden and your living room with just as much determination as to when he's digging for a critter. A Jack Russell Terrier who digs doesn't have a behavior problem; he's the epitome of the breed.
A dedicated owner can channel that enthusiasm into hunting, but if your interests lie elsewhere, Jack Russell excels at all kinds of organized and informal canine activities, and of course, he excels at terrier races and earthdog tests. He loves to hike and can be an excellent agility dog, too.
A Jack Russell will need firm, fair, and consistent training from a young age so he'll understand the boundaries necessary for living with humans. As long as he's getting plenty of exercise and stimulation for his quick mind, he's perfectly capable of differentiating between the great outdoors and the family room sofa as long as you take the time to teach him.
Personality:
Living with a JRT/PRT is an exercise in patience, but the people who love him wouldn't have it any other way. This is a friendly, outgoing dog who is playful and affectionate. When he's not hunting, that is. He loves to work, and for him, work means seeking out quarry ranging from mice and moles to the traditional fox. When he's hunting, that's the only thing he has on his mind. Next to the word tenacious in the dictionary, you will find a picture of a JRT/PRT. That can make him difficult to live with unless you are able to channel his energy, intelligence, and single-mindedness into a dog sport such as earthdog trials, terrier races, or agility. He must have a job to do, and careful supervision or he will take your house apart in his search for something interesting to do. Daily exercise a lot of it is essential.
The JRT/PRT can be a good companion for an older child who can match his intelligence and activity level, but toddlers are not this breed's cup of tea. They are not patient with having their ears or tail pulled and won't hesitate to growl or nip if driven past their limit of tolerance.
Cats and other small pets should beware. The JRT/PRT will view them as prey. He might get along with an indoor cat if they are brought up together, but it is, not something you should count on. Always remember that this dog is a relentless hunter. With other dogs, the JRT/PRT should get along reasonably well. He has been bred to hunt with hounds, after all, so must be willing to work with other dogs. His breed standard says he should not be quarrelsome nor overtly aggressive toward another dog.
Confine him to a securely fenced yard or the JRT/PRT's strong hunting instinct will take him far away from home and very likely into the path of a car. An underground electronic fence is not suitable for this breed. His desire to hunt may overcome the dislike (the JRT/PRT can seem fearless) of a shock.
The JRT/PRT is an independent thinker, and he likes to do things his own way. Keep this in mind when training him. He'll respond readily to praise and rewards for things you like and become stubborn if you are harsh with him. Training sessions should be short and fun without a lot of boring repetition.
Start training your puppy the day you bring him home. Even at 8 weeks old, he is capable of soaking up everything you can teach him. Never wait until he is six months old to begin training, or you will have a more headstrong dog to deal with. If possible, get him into puppy kindergarten class by the time he is 10 to 12 weeks old, so you can start building a strong working relationship, and socialize, socialize, socialize. However, be aware that many puppy training classes require certain vaccines (like kennel cough) to be up to date, and many veterinarians recommend limited exposure to other dogs and public places until puppy vaccines (including rabies, distemper, and parvovirus) have been completed. In lieu of formal training, you can begin training your puppy at home and socializing him among family and friends until puppy vaccines are completed.
Health:
All dogs have the potential to develop genetic health problems, just as all people have the potential to inherit a particular disease. Run, don't walk, from any breeder who does not offer a health guarantee on puppies, who tells you that the breed is 100 percent healthy and has no known problems, or who tells you that her puppies are isolated from the main part of the household for health reasons. A reputable breeder will be honest and open about health problems in the breed and the incidence with which they occur in her lines.
If you look at the list of diseases on the Jack Russell Terrier Club of America website, you'll decide this has to be one of the unhealthiest breeds around. Not so; it's just that most breed clubs aren't as relentlessly thorough about even the rarest health conditions that can affect their dogs. The truth is that the Jack Russell Terrier is a pretty healthy dog, although he does have some genetic health concerns. His fiercely protective enthusiasts are doing everything they can to keep those problems in check and prevent new ones from developing. That's just one of the many reasons to exercise great care in selecting the breeder of your puppy.
Grooming:
The Jack Russell comes in a smooth coat (like Wishbone) and a scruffy or "broken" coat (like Eddie). Both require a minimum of grooming just a quick brush a couple of times a week to keep shedding under control. He's definitely meant to be a no-fuss dog.
The rest is basic care. Trim the nails as needed, usually every week or two. Brush the teeth frequently with a vet-approved pet toothpaste for good overall health and fresh breath. Check the ears weekly for dirt, redness, or a bad odor that can indicate an infection. If the ears look dirty, wipe them out with a cotton ball dampened with a gentle, pH-balanced ear cleaner recommended by your veterinarian. Begin grooming your JRT/PRT at an early age so that he learns to accept it willingly.
YOU MAY ALSO LIKE