Know about Breed: Poodle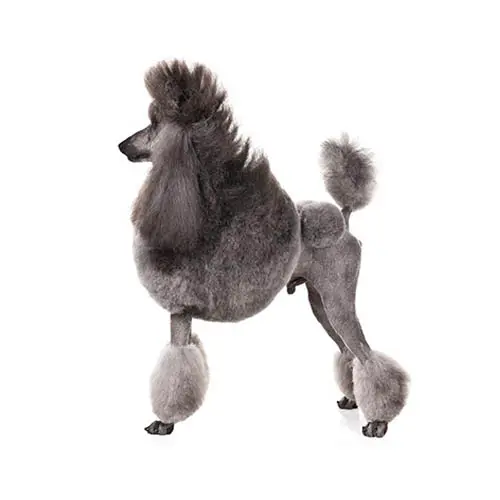 Basic Information:
Life expectancy: 12 15 years
Height: Toy Poodle: 24 - 28 cm, Miniature Poodle: 28 - 35 cm, Standard Poodle: 45 - 60 cm, Medium Poodle: 35 - 45 cm
Colors: Black, White, Apricot, Cream, Sable, Black & White, Blue, Grey, Silver, Brown, Red
Origin: France, Germany
Temperament: Intelligent, Alert, Faithful, Active, Instinctual, Trainable
Overview:
No breed has a more highly developed sense of humor than the Poodle. Good thing, too, because no breed has been the butt of more jokes. Humor aside, all the sniping is unfortunate. Many a family overlooks the smart, funny Poodle, thinking him prissy. Still, it is one of the more popular breeds in the world. Poodle lovers know the dogs for their intelligence, ease of training, low-shedding curly coat, and love of family
A Poodle's coat is both a blessing and a curse. It is a blessing because the breed sheds less, so it may be more easily tolerated by some people with allergies. But the coat or rather what some people do with it is why many people cross the Poodle off their lists. The breed's frou-frou reputation is based on show poodles, who are poofed, shaved, and hair extensions into an appearance that, though once based on practical considerations, is now just plain silly. Family pets can have a simple and easy-to-maintain look. And they don't have to wear nail polish!
Poodles require grooming every 4 to 6 weeks. Some Poodle owners learn to use clippers and do the job themselves, but most rely on professionals. Either way, it is essential to take care of the Poodle's curly coat. Without regular clipping, it will become a matted mess that can cause painful skin infections at the roots.
Personality:
People-pleasing Poodles are happy, friendly dogs who like mingling with people and other dogs. They have a terrific sense of humor and are natural-born clowns. Being the center of attention makes them happy. They have an astonishing capacity for behaviors and tricks involving both brains and agility. It is entirely possible for a Poodle to outwit you, and you may find it unnerving to live with a dog who seems smarter than you are.
There are many similarities within the three sizes, but there are also some minor differences in behavior. These differences won't be seen in every Poodle, but if you saw one of each size together, you might notice some of the following characteristics.
Standard Poodles are active and energetic, but they tend to be a bit more reserved than Miniature and Toy Poodles. They like having a job to do.
Miniature Poodles follow their people around and are the most active of the three sizes. Because of their larger size, Miniatures are better suited to small children than Toys. Miniatures and Toys have more mischievous natures than Standards.
Toy Poodles are the ultimate companion dogs. They really know how to strut their stuff, in and out of the ring.
Poodles are among the smartest of breeds, but that intelligence can translate into stubbornness. Even so, they can make wonderful therapy dogs. Their empathetic nature and joy in engaging with people make them naturals for visiting with people in nursing homes, hospitals, and schools. Therapy provides Standards with their work fix.
Health:
All dogs have the potential to develop genetic health problems, just as all people have the potential to inherit a particular disease. Run, don't walk, from any breeder who does not offer a health guarantee on puppies, who tells you that the breed is 100 percent healthy and has no known problems, or who tells you that her puppies are isolated from the main part of the household for health reasons. A reputable breeder will be honest and open about health problems in the breed and the incidence with which they occur in her lines. The Poodle Club of America has good descriptions of diseases that might affect Poodles. It is a long list. Not all of these diseases affect Standard Poodles, but conditions that can occur generally in Poodles include the following:
Addison's disease and Cushing's syndrome are flip sides of the same coin. In dogs with Addison's disease, the adrenal glands don't produce enough of the hormone cortisol. The dogs become lethargic, depressed, and intolerant of stress, and they may have digestive problems. Some dogs can have an acute crisis, necessitating hospitalization. Lifelong treatment consists of giving medication.
In dogs with Cushing's syndrome, the adrenal glands produce too much cortisol. Symptoms include weight gain, panting, excessive thirst and hunger, bladder infections, and urinating in the house even though the dog was previously house-trained. Cushing's is usually managed with lifelong medication, but surgery is sometimes necessary.
Another hormonal problem seen in Poodles is hypothyroidism (inadequate levels of thyroid hormone). Symptoms include weight gain, hair loss, lack of resistance to disease, excessive hunger, and seeking out warmth. Thyroid hormone supplements are usually prescribed to manage the condition.
Grooming:
Grooming is a significant consideration in Poodles. The fine, curly coat that worked well when the Poodle spent his time in the water needs to be clipped regularly, typically about every 6 to 8 weeks, depending on his owner's preferences. It mats easily and requires regular brushing at home, even with professional grooming. Left untrimmed, the coat will naturally curl into cords, though some people prefer that look.
Dental care is important, particularly for Toy and Miniature Poodles. Keep on top of it by brushing teeth with vet-approved pet toothpaste and having a veterinarian do regular dental checks.
Trim the nails as needed, usually every week or two. They shouldn't get so long that you can hear them clicking on the floor.
YOU MAY ALSO LIKE