Know about Breed: Pug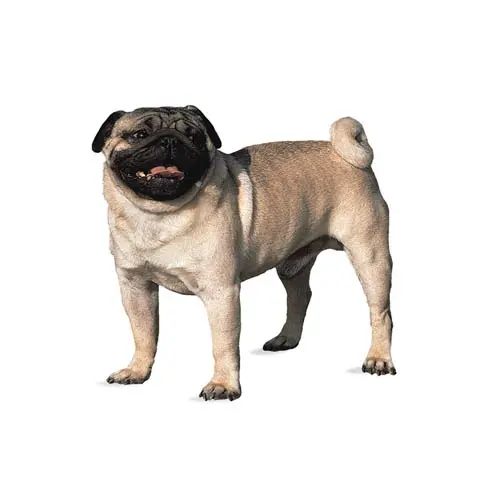 Basic Information:
Life expectancy: 12 - 15 years
Origin: China
Colors: Black, Fawn, Apricot, Silver Fawn
Height: Male: 30 cm (At the withers), Female: 25 cm (At the withers)
Temperament: Docile, Clever, Charming, Stubborn, Sociable, Playful, Quiet, Attentive
Overview:
Don't let his worried, wrinkled little face fool you: The Pug is laughing inside. He's laughing at you and with you and he's also trying to make you laugh. These dogs live for fun, which is the secret to their enduring popularity. Bred as companions for Chinese nobility, today they're-fulfilling their ancient function as beloved house pets. To their many admirers, there is simply nothing like a Pug.
These are undeniably lovable dogs, bred for centuries for their wonderful dispositions. The Pug is never happier than when spending time with his human family, often the following someone from room to room. He is welcome wherever he goes, with a handsome, smooth-coated frame in shades of tan, gray, and black, and with a black mask accenting his sweetly wrinkled face.
Pugs are usually good with other dogs, cats, and children. Bigger and hardier than many small-dog breeds, they can even withstand a bit more in the way of rough play, as long as it's supervised and doesn't get out of hand. Because of their relatively large size (for a toy breed) and easy-going temperament, they're wonderful with children and perfect for on-the-go families, as long as they realize Pugs are not designed to be jogging companions or beach bunnies.
Compact and well-muscled with an endearing little ring of tail, a Pug should ideally weigh no more than 20 pounds. Many Pugs weigh more, owing to their begging skills. This trait too often leads to obesity, which can add to the already significant health burden these solid little dogs carry.
Personality:
People may initially be attracted by the Pug's unusual appearance, but they are quickly won over by his personality. He is a charming, fun-loving clown of a dog who doesn't mind wearing a costume. It's all in good fun, after all. Even dressed as a bumblebee, the Pug has a knack for retaining his dignity even while making people laugh.
Pugs take well to training, too. That is, they will train you to spoil them appropriately. They love to eat, and it takes the strength of ten to resist a Pug's pleading face when he wants one of your tater tots.
Pugs have a reputation for being difficult to housetrain. But if you learn to read their body language, they will tell you when they need to go out.
Is the Pug perfect? Well, no, not always. Any dog, no matter how nice, can develop obnoxious levels of barking, digging, food stealing, and other undesirable behaviors if he is bored, untrained, or unsupervised.
Start training your Pug puppy the day you bring him home. He is capable of soaking up everything you can teach him. Don't wait until he is 6 months old to begin training or you will have a more headstrong dog to deal with. If possible, get him into puppy kindergarten class by the time he is 10 to 12 weeks old, and socialize.
Health:
The Pug is prone to a condition called a brachycephalic syndrome, characterized by pinched nostrils and an elongated soft palate. Because of it, Pugs can have breathing problems, especially in hot or humid weather or if their owners allow them to become overweight. It's essential to keep Pugs cool, limit their exercise on hot days, and restrict the amount of food they eat so they can maintain a healthy weight. For Pugs who snore excessively or gasp for air, surgery can correct both the pinched nostrils and the elongated soft palate, but its up to breeders to improve the size of the nostrils so dogs can breathe properly.
A breed-specific disease called Pug Dog Encephalitis, or PDE, is an inflammation of the brain that causes seizures and death. There is no cure and no way to prevent the condition
Orthopedic problems can occur, too. Like many small dogs, Pugs can have the hip deformity known as Legg-Calv-Perthes disease, which reduces the blood supply to the head of the rear leg bone, causing it to degrade.
Short-faced dogs, including Pugs, can be born with a spinal condition called hemivertebrae, in which the bones of the spine are deformed. Some Pugs have only minor deformities and don't show any signs, while others develop a stagger; a weak, uncoordinated gait; or can become paralyzed. This usually occurs when a puppy is 4 to 6 months old. There are no screening tests for hemivertebrae.
Grooming:
Grooming a Pug's coat is easy. Brush his smooth double coat weekly with a rubber curry brush to remove dead hair. And you will remove lots of it because Pugs shed. A lot. They shed year-round, so it's something you should expect to live with.
The Pug's facial wrinkles, especially the deep nose roll, must be cleaned. Each Pug is an individual, so you may have to clean them daily or only weekly. Wipe out the crud with a dampened cosmetic sponge or baby wipe, then thoroughly dry the wrinkles so they don't mildew or become infected, a condition known to Pug people as swamp face.
Bathe the Pug as needed. With the gentle dog shampoos available now, you can bathe a Pug weekly if you want without harming his coat.
The rest is basic care. Trim the nails every week or two, and brush his teeth often with a vet-approved pet toothpaste for good overall health and fresh breath.
YOU MAY ALSO LIKE