Review of Captain Zack Bling on the Shine Dry Shampoo 250ml
4 ★
good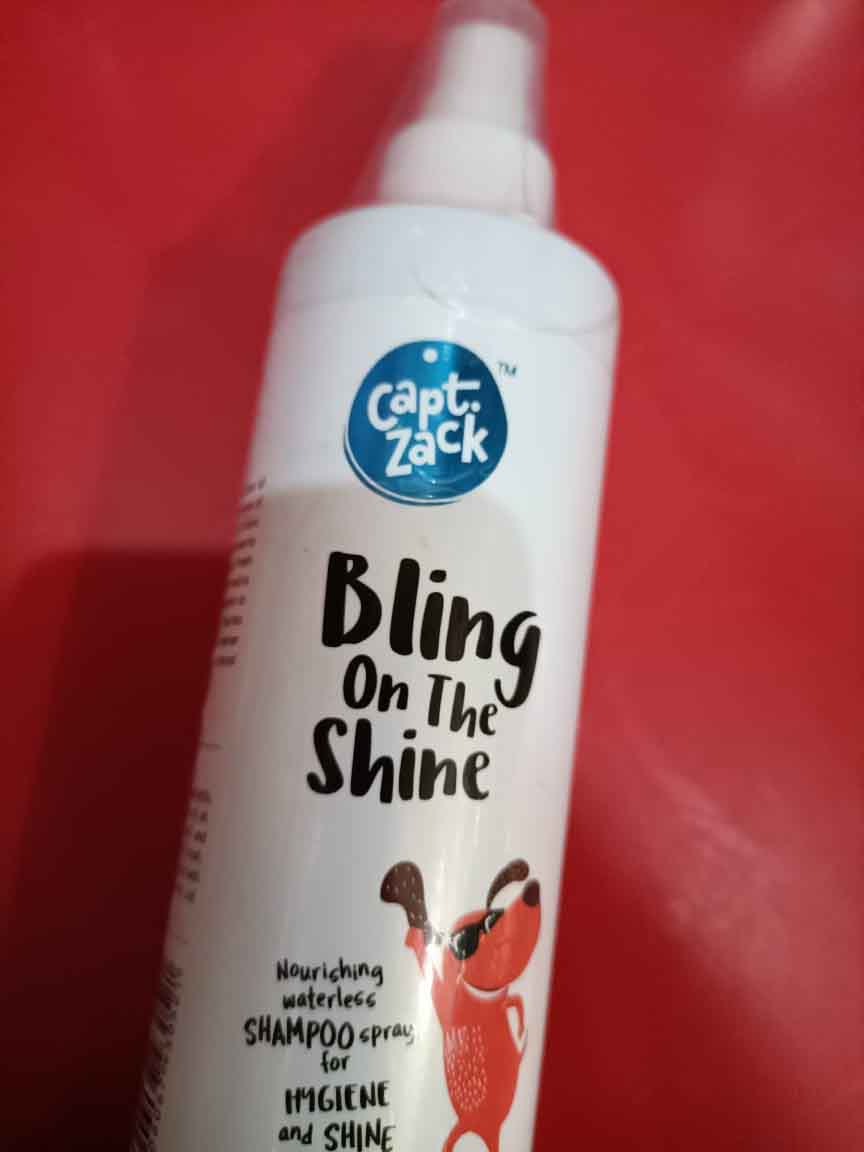 Kailash ... | 20-May-2021
---
5 ★
The best quality shampoo.It has smoothen my pet hair.
Sohan... | 02-Feb-2021
---
5 ★
Carefully packed with natural botanical actives of Lavender, Chamomile, Aloe Vera, Papaya, Protein and Wheat Protein.
Gaurav... | 08-Feb-2021
---
5 ★
It's awsm for any dog, scent is good,and when i use on my dog my dog's coat is so brighter than previous day
Raj kumar... | 23-Dec-2017
---
3 ★
Very very good.....
jayabrata ... | 16-Apr-2019
---
3 ★
Not smelling good and not long lasting
Amit Kumar... | 30-Jan-2019
---
4 ★
It really makes the coat of my pet shine.
Shivani Gu... | 07-Feb-2018
---
5 ★
My dog hates bath time- I spray this daily so that my dog smells good and has a shiny coat.
Payal Pate... | 05-Sep-2018
---
4 ★
Very good and totally effective. Have been told to every pet parent about this product :) :) :)
anil... | 22-Jan-2020
---
4 ★
According to price its good..My 30 day Labrador loves its smell..
Anshika Sh... | 20-Jul-2016
---
3 ★
Good product overall Scent could've been better but as long as it's natural I'm happy
Kanav... | 03-May-2018
---
3 ★
One time use
karthikeya... | 18-Jul-2019
---
5 ★
I can swear by this company & their products. Best dry shampoo till date according to me.
SEEMA BANE... | 06-Aug-2018
---
5 ★
Very handy and easy to apply
anamika du... | 29-Jan-2018
---
4 ★
Great product, easy to use.
Ajay Gupta... | 02-Feb-2018
---
4 ★
Liked it It's cheap Good for daily use
Gracias... | 19-Nov-2019
---
3 ★
No fragrance does not clean anything
Lapekshi... | 11-Mar-2020
---
4 ★
Works good however the fragrance ain't that great
Moon B... | 07-Aug-2020
---
3 ★
Works well. Cleans my golden retriever coat well.
hari... | 05-May-2020
---
5 ★
My dogs hated dry bath up until the day i used Capitan Zack dry bath No protests from my dogs and it didnít itch their noses like the earlier ones I used The spray nozzle is very easy and convenient to use
nupoor... | 16-Sep-2017
---
5 ★
Everyday regime for my pup Love the smell and it does clean the fur. Not sure if it removes germs and fleas too. One should have it if they own a puppy as you cannot bathe them when they are this tiny
Priyanka s... | 29-Oct-2016
---
5 ★
Good scent, and easy to use. Though it is costly but good product
Amar Nath ... | 21-May-2020
---
5 ★
If you are looking to cut back on the number of baths for your pooch, this Dog dry shampoo offers a great solution! It leaves my Indian Spitz smelling great and his fur sleek.
atul... | 22-Apr-2018
---
4 ★
The Scent is very mild. It not stays for an hour atlest. Not worthy anymore. I didn't like it. But as the return option not available i have no another choice. As my opinion use it or not use nothing works.
Prasanta... | 06-Jan-2018
---
4 ★
Good stuff. Has a spray nozzle which spurts out the required amount into the fur. I found it dries up my GSD Puppies fur a bit. Overall would rate it as a good buy!!
Sivaditya ... | 27-Dec-2019
---
5 ★
Product is really good. I am using it on my stray dog (who is in process of adoption). Though he roams around here and there flies dont sit on him after just 2 to 3 Sprays of this shampoo.
Khushboo... | 08-Oct-2019
---
5 ★
Undoubtedly one of the best products available in the market. Despite being reasonably priced, there is no compromise on the quality on this product. It is a great product for weekly cleaning routine in dogs. The smell is not too harsh and leaves pleasant smell.
navjot... | 03-Feb-2020
---
5 ★
I use it on alternate days during this monsoon season. Just spray and hand massage for a few minutes. Then gently rub with a towel. Then brush the coat with a slicker brush. My dog looks neat and clean and the coat shines like new. Very happy with this shampoo. Only the scent is very mild and not very lasting. Still worth 5 stars.
Mridul B.... | 19-Aug-2017
---
5 ★
I have ordered to check if this really works as per the description and the reviews posted by others. Trust me, the fragrance itself attracts puppy and removes all dirt easily with few rubs. This also keeps the puppy scentedz Totally worth of each penny.... Iíve subscribed this product monthly now ?
Chandra... | 10-Jan-2019
---
2 ★
I brush my pug's fur everyday. After using this, i did not find much of a difference, may be because daily brush keeps her clean already.. Also found it to be sticky on my hand after massaging. Definitely not an alternative for daily brushing and fortnightly bath.
Sunil P S... | 20-May-2018
---
5 ★
This is a five-star product: Good quality organic ingredients, ease of use, excellent fragrance of essential oils, and great functionality. It makes my dog's coat healthy and shiny. Totally loved the product. I actually wish humans also had this kind of nice dry shampoo that would be free of alcohol and full of nice organic ingredients :).
Shruti... | 27-Mar-2019
---
5 ★
I have a Shih Tzu and she tends to get messy between bath, her long hair also gets dirty on the paws and hind legs from going on walks and peeing, baby wipes were never enough, and while we give her a full bath every 2 weeks, her hair start looking dull and volume less after a week, not to mention the doggy smell. I just tried that spray for the first time half an hour ago and it meets all my expectations. The smell is a lovely yet not too overpowering Lavender smell, the spray bottle is easy to use, and the product inside is neither oily nor sticky. Once the hair is damp, all it takes is to rub it in and then brush. As I was brushing the shine came back on the coat along with the lightness that gives all the silky volume. I saw a few tiny ticks coming to the surface as I brushed after the dry shampoo, so i'm going to guess they didn't like the lavender smell, which is an added bonus. My dog seemed to like the smell too, normally she sneezes when we use a too smelly product of any kind on her.
Cynthia Ha... | 19-Jul-2018
---
5 ★
They enjoy it when I hold this bottle & they come running and sit in a line for the spray-rub-comb massage routine. They enjoy the fresh smell.
mans@gmail... | 02-Jul-2019
---