Review of Himalaya Erina EP Dog Shampoo 200ml
4 ★
This shampoo really helped my pets, removing the tick and flea from their coat.Thus its best shampoo for the pets.
Raj... | 15-Mar-2021
---
5 ★
More important than my opinion ,my pet ( Labrador ) is comfortable with the product and waits eagerly for his shampoo. After his bath, he smells healthy and is so soft to touch. Have being using this product for five years.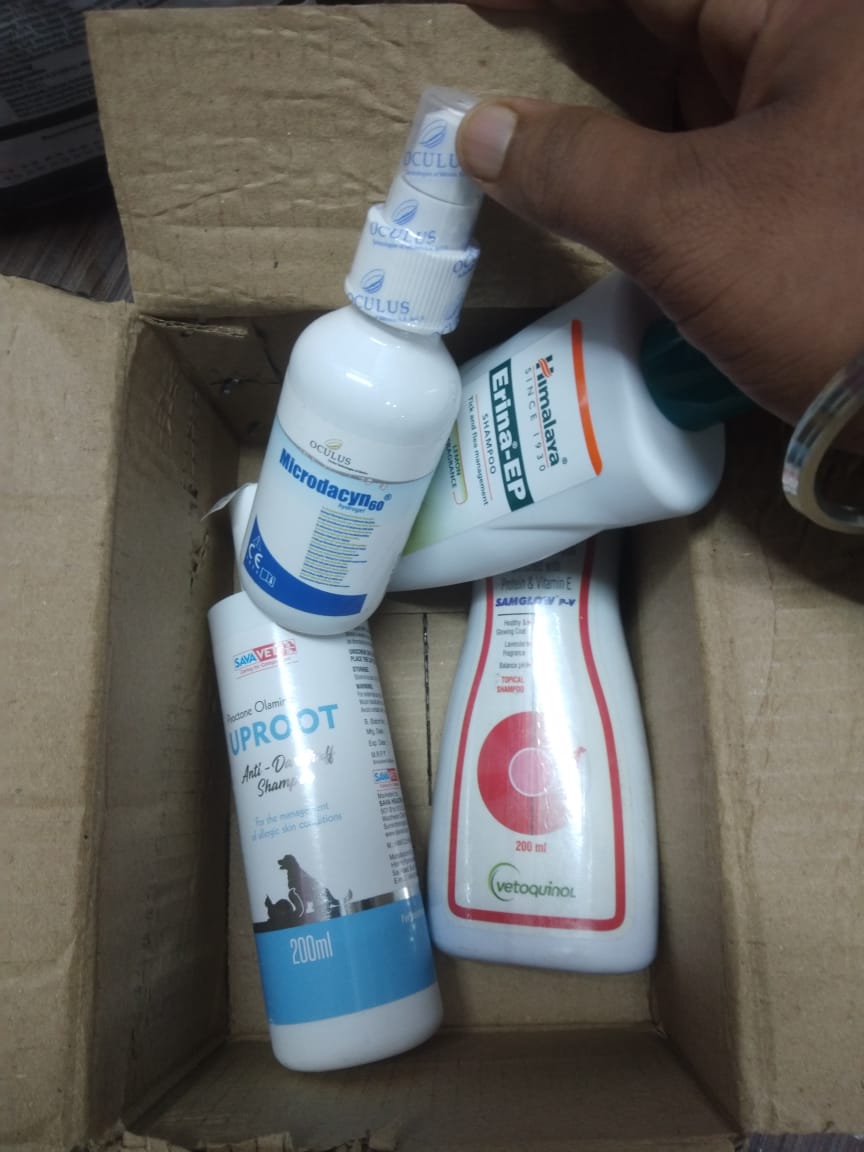 rita mukhe... | 03-Feb-2020
---
4 ★
Makes the coat very smooth and shiny. Smell is nice. Not so much helpful for the fleas and ticks since they managed to come back even after application of this product. I use this in combination with another shampoo which keeps the fleas away too.
Shrikanth ... | 19-Aug-2017
---
5 ★
I've been using this shampoo on my Golden retriever, Its a really good and effective shampoo and doesn't have any harmful chemicals in it. I would recommend this to everyone.
Saurabh... | 10-Jan-2019
---
5 ★
Its amezing shampoo I am very satisfied with it. Shampoo produce foam very well that cleans the dirty fur of my dog extremely well also make fur smooth and shine my love baby blaze shines and smell good. ?? love this products definitely gona buy it again. Must have shampoo for animals parent ?
Tanuja Tha... | 20-May-2018
---
4 ★
It's much better than other available similar dog shampoos. ..yes it controls ticks nd flea. Don't use of your dog has an infected skin or if the skin is sensitive.
Piyali S.... | 27-Mar-2019
---
5 ★
Used it as per instructions on the bottle but couldnít keep my dog the full 10 to 15 minutes since she was shivering. After drying I still found ticks so I thought I didnít use enough shampoo or didnít leave it on long enough before washing off. But the full effect only shows about a day after use. Been checking daily for a couple of days now and looks clean and clear. Coat looks shiny and feels softer. Scent is good enough too.
SumanFM... | 19-Jul-2018
---
5 ★
By the time you are finished bathing your dog you be able to see ticks and fleas dropping out from hair. Every effective. They could add some more flavour scent so that the experience is good.
Samkit... | 11-Jun-2019
---
3 ★
Shampoo is good since I'm using thia on my pet they got no ticks but its not good for furry pups.. it think it's hard for their skin.. Good for Doberman but not for spitz
Koniya G.... | 23-Dec-2017
---
5 ★
Very good product, i can see the difference on my dogs coat.
petindiaon... | 16-Apr-2019
---
5 ★
Delivered on time. Discount was good. Very nice product makes my Shepherd's fur shiny and soft. Thank you petindiaonline and Himalaya.
Sumit Sing... | 30-Jan-2019
---
5 ★
I have been using this product for my husky since he was 2 months old. The smell is very soothing and while washing him use this to kill the ticks and flea. Although there are other better shampoo but for the price it does its job.
Abhro... | 07-Feb-2018
---
5 ★
Using since my lab was 6 months old... Best thing about it is it has natural ingredients because of which it doesínt reacts with the skin, its really gentle and has a good odor ... Perrfrct :)
akkiz... | 05-Sep-2018
---
4 ★
My puppy does not like baths so we could not keep the shampoo on him for the required ten minutes. It lathers easily and has a decent perfume. I don't know if it stunned any ticks, as we didn't see any fall out, though lots of his hair did. We found one tick inside his ear after his bath. So, not sure if this is effective as it claims to be.
CG... | 22-Jan-2020
---
3 ★
Nice smell, nice texture and foam, and I'm glad because it doesn't contain pharmaceutical chemicals. But while this is a great general dog shampoo, it doesn't do much for ticks.
Ram Mohan ... | 20-Jul-2016
---
5 ★
Good shampoo.. Been looking for a not so strong fragrance for a dog shampoo and this does a good job.. Not sure if it helps with ticks and fleas
petindiaon... | 03-May-2018
---
5 ★
Well, I applied it in my kittens and found that the next day flee was gone besides that after applying in your pets they will smell good and look good also
Kunal Das... | 18-Jul-2019
---
3 ★
I have been using this shampoo for bathing my cats and dogs and its quite effective in controlling their ticks and fleas. Was absolutely delighted when i saw this in petindiaonline at such a discounted price. I received the product on time but the packaging was not good. The shampoo had leaked inside the packet and a significant amount of product was wasted.
petindiaon... | 06-Aug-2018
---
5 ★
To much different seen after use on my cats like hair fall being decrease and now there is now single flea and tick in there hair. after use now they dont scrach there body.. i love it if you love them give them a bath with this product every 15 days or every months i hope its to usefull with dogs
Deepak K p... | 29-Jan-2018
---
5 ★
Smells nice. Good cleaner for pets. Usally my dog doesnt like some hard herbal like smells. But my pet likes this smell. Without making any trouble it make its bath.
Sujin... | 02-Feb-2018
---
4 ★
It is really effective for ticks and help reduce their numbers but it can not help you with get rid of them completely. I've given bath with it twice already, definitely ticks number reduced but still I've to remove 10-20 baby ticks every day from my dog but it helped my dog from severe tick and flea issue. I'm thankful for that.
KCP... | 19-Nov-2019
---
5 ★
Himalaya shampoo has helped in reducing fleas, lice and ticks infestation, itching from my both puppies.It really works.from first wash only you will observe the difference.after 4 wash(each wash every week) now i can say my puppies are clean & fleas-ticks free.
Abhinav Ve... | 11-Mar-2020
---
5 ★
With Himalaya, one cannot go wrong. This shampoo combines the best of substance - the germicidal property seems very effective as no ticks and other dangerous parasites on the dog and style - the gentle sandalwood aroma is almost identical to that of Santoor soap so very welcome to both human and canine olfactory senses. The doggie's fur glows with a shine and the underlying skin is oft which means that the shampoo works very well. The squeezie bottle is very convenient to apply targeted blobs of shampoo so minimising waste and helping ergonomics. Lastly, the dog loves the feel and aroma of the product unlike some others on the market which cause dogs to recoil with disgust. Conclusion: THE must have shampoo for your furry pet. My permanent choice.
Maneesh Jo... | 07-Aug-2020
---
5 ★
Used for the first time for my Golden retriever and saw the result quickly all the Tick which were hidden in the hairs started to fall off really recommend this product to all pet lovers
santosh su... | 05-May-2020
---
5 ★
HImalaya has the best pet shampoo that there is. I have used several brands but none of them come close to the effects I receive from this shampoo. I buy this quite frequently. The 500 ml pump bottle is not frequently available so I usually settle for the 200 ML size. This time it was and I am so glad. Good cleansing action. The packing looks great. Himalaya's pet shampoo is effective and so much better that the ones that the pet store owners try to sell i those local weird looking bottles.
Abha Tiwar... | 16-Sep-2017
---
5 ★
The shampoo itself is good. Works for grooming on many types of dogs. I use this to help with fleas and ticks. I prefer Herbal because it is safer for animals and the environment. Delivery from petindiaonline is bad. 4 bottles have now been delivered damaged and all petindiaonline offered to me was lies or a refund. As an petindiaonline prime customer I am very upset and may take my business elsewhere.
Girish Bon... | 29-Oct-2016
---
5 ★
excellent shampoo to get rid of ticks. use coconut oil couple of days after bath if the skin becomes too dry.
R.Rajesh... | 21-May-2020
---
5 ★
We have a totally white cat. She goes out and plays in mud so her fur was rough and dull. We bathed her today with this product. It has very light smell and doesn't lather a lot. She had a single flea which came out by itself. It was easier to locate it due to her white fur. Now her fur is smooth and white as snow.
YSH... | 22-Apr-2018
---
5 ★
This product is used on my cat. Quality: The liquid is brownish with regular shampoo consistency and creates lather easily. The product kills most of the ticks immediately when applied on the right place. Since I have a cat and cats don't enjoy water, I can't leave the product for 10-15 mins as instructed. I apply to the whole body and then specifically few areas where I can see the flea and wash immediately. The lather do take little more water to wash off than other shampoo. Other details: The wash has a nice fragrance and the fur feels really soft and smooth after it has completely dried.
Subho... | 06-Jan-2018
---
5 ★
Somnath Go... | 27-Dec-2019
---
5 ★
I have used it on my dog, it gives an awesome results. As soon as the shampoo is applied, all tiny insects, if present on the coat, comes out. Moreover a small amount of the shampoo gives enough foam to wash off the dirt.
petindiaon... | 08-Oct-2019
---
5 ★
Good product for them.My dog love to use it.I'm using it for dandruff it's really reduce it,also u can use it for tick and flea.
Poulami... | 03-Feb-2020
---
5 ★
Very good budget kibble Very tasty High chicken contents Best overall quality Malayalam review on my chanel Youtube p4pai
PAPAI... | 19-Aug-2017
---