Review of Himalaya Erina Dog Coat Cleanser 450ml
5 ★
I like how it smells light and fresh. Suits both cats and dogs.
Shagun... | 30-Jun-2021
---
5 ★
Nice one.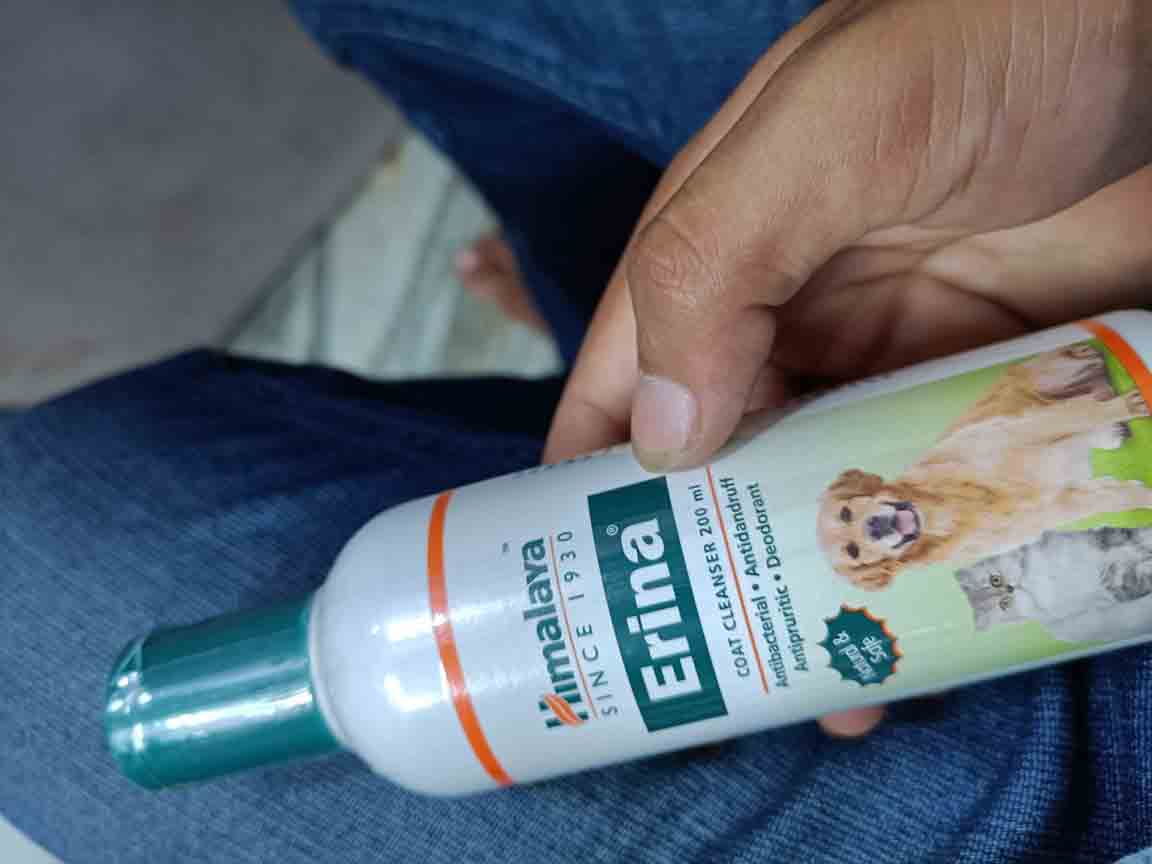 Yamini ... | 09-Apr-2021
---
5 ★
Quality of the shampoo is good,reasonable rate.
Arpita Mon... | 15-Feb-2021
---
4 ★
good shampoo
neeraj... | 03-May-2018
---
5 ★
Best shampoo for ticks and fleas, my shih tzu gets a lot of Ticks and they literally fall of after every bath
Asmita Jah... | 18-Jul-2019
---
4 ★
If u have more dogs at home this is best for use
Priyanka... | 06-Aug-2018
---
5 ★
Good
SWAPNA NAT... | 29-Jan-2018
---
1 ★
My dog has more hair falling and itching problem after using this Shampoo
ASOKKUMAR... | 02-Feb-2018
---
5 ★
Today I received this product and my dog's fur is so soft now... He immediately slept also...
Nikita Shi... | 19-Nov-2019
---
4 ★
Good Product
Venkata Ra... | 11-Mar-2020
---
5 ★
Good for flee control.
AJ... | 07-Aug-2020
---
5 ★
Ticks either die or start falling off. Strong medicinal smell initially but wears off after putting water
p.kumar... | 05-May-2020
---
3 ★
Great product for this price but now the price is increased little bit from earlier price.
Prashant S... | 16-Sep-2017
---
5 ★
Don't go with the negative reviews.This product is just awesome.My cat is looking like an actress(literally) after just one wash.It has a mild smell and cleans ticks away in a jiffy.Go for it blindly.
Puspita Mu... | 29-Oct-2016
---
1 ★
I think its not a shampoo. Its just a chemical. Please don't buy this types of product. My dog hair fall in down when i was using this shampoo. But some how i knew it and i was stop using it. Thanks Panthesh
devendra... | 21-May-2020
---
4 ★
Gud buy,both my dogs were ok after the bath, reduced the tick prevalence,dogs remain clean longer n nice scent
Bvk... | 22-Apr-2018
---
2 ★
I have been using this product for my golden retriever for a long time but this time the shampoo has a smell like mobil used in automobiles. The pack was sealed at the time of delivery. So could not complain about adulteration
prakash ... | 06-Jan-2018
---
5 ★
Removes all ticks, makes the coat soft for my 5-year-old pom. Scent is not that impressive, but cleans & refreshes my pet that he starts jumping & running after the bath. Recommended even if your pet has no ticks or other insects as it prevents them.
Pradeep Ku... | 27-Dec-2019
---
5 ★
Its smell is quite similar to that of petrol but the best product for your dogs. It really prevents ticks and fleece.
Abhilasha ... | 08-Oct-2019
---
2 ★
Not at all effective...cost wise ok...but does not work on ticks n has a weired smell....thankfully it does not last
amit... | 03-Feb-2020
---
3 ★
makes your eyes water and smells like petroleum. it leaves the fur very rough, but i do see ticks falling off during every wash that the dog goes through
david... | 19-Aug-2017
---
4 ★
Good to use.. reduced hair fall of my puppies and no ticks are there now and puppies hair become silky, smooth and strong.. but we are not using it for puppies face.. we using shampoo to clean their face.. worth for money..
Aandurukal... | 10-Jan-2019
---
4 ★
Amazing product. After using it my dog is free from ticks and fleas. We used to feel bad seeing our pet continuously scratching himself but now he is free of fleas n ticks . We are very happy with the shampoo. The shampoo smells like kerosene. If it has not smelled of kerosene I would have rated it 5 stars
Babitha... | 20-May-2018
---
4 ★
The product is great! I'm settling for 4 stars because the lather produced by the shampoo is not great. A Tip: After lathering the adult pup with this shampoo add some anti-tick powder on the body of the pup & massage for a while till the powder gets mixed with the lather. Leave the lather & powder to do their work of ticking the ticks & then wash your pup after 20 mins.
Santhosh K... | 27-Mar-2019
---
5 ★
A great product! Leaves the coat soft and shiny! Has a very mild pleasant odour and very effective resistance to bugs. Since my dogs are mostly outdoors in my garden and yard they do get extremely filthy and yet for 10-15days straight no bugs or fleas. So pretty robust in its anti pest action. Also quantity lasted me a good 8months given I have 3dogs bathed weekly! Also I suggest use a toilet soap to remove the major dirt from the dog coat(cats usually keep themselves clean and tidy) and then use the shampoo it gives a very good effect. Also use of lukewarm water will do wonders!
Vaibhav Na... | 19-Jul-2018
---