Review of Beaphar Kalk Calcium Tablets 160pc (Dog Supplement)
5 ★
product is very effective and working. Very good product value for money
Tulika... | 10-Mar-2022
---
4 ★
Very effective. Received in proper time. Thanks.
Arindam... | 19-Aug-2021
---
4 ★
best supplements for dogs.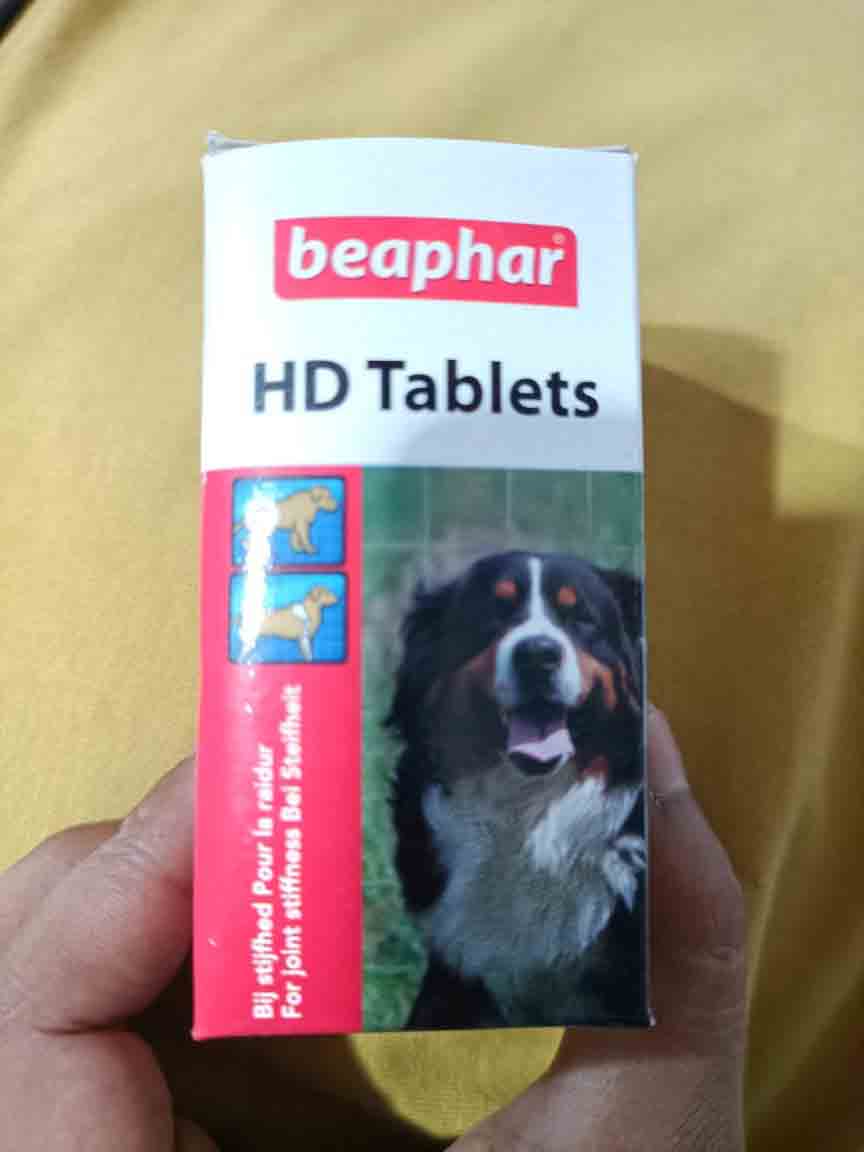 Arijit ... | 19-Apr-2021
---
4 ★
it is really useful.
mohan... | 16-Mar-2021
---
4 ★
It is best for the pet animals.And really benefitted for the pets.
sohail... | 13-Feb-2021
---
4 ★
Supplement Works Well.
Sneha.... | 16-Feb-2021
---
4 ★
very good supplement for dogs.
Arushi ... | 12-Feb-2021
---
5 ★
Good product for my dog
goutam8568... | 04-Mar-2021
---
5 ★
Its the real deal. they work better than other calcium supplements i have tried.
Ankit... | 11-Jun-2019
---
5 ★
Good product
Saikat bha... | 23-Dec-2017
---
4 ★
Good product and was also good for this product
Deepak pra... | 16-Apr-2019
---
5 ★
Good
Pradipta S... | 30-Jan-2019
---
5 ★
My dog liked it. Value for money.
samidh... | 07-Feb-2018
---
5 ★
Good
sudha... | 05-Sep-2018
---
5 ★
My dog(pitbull) likes it very much
harsh... | 22-Jan-2020
---
5 ★
Beneficial if your dog is not drinking scerup . Easy to feed to pets . Value for money Check kalk top 10 for multivitamins
PRANESH YA... | 20-Jul-2016
---
5 ★
Very good
Good... | 03-May-2018
---
5 ★
My dog is healthy after using this...good quality
r.roy... | 18-Jul-2019
---
4 ★
My dogs likes to eat them
Yaswanth... | 06-Aug-2018
---
5 ★
A worth buy for dog lovers...my 6 months old lab is fond of this tablet. I felt a tremendous growth in his over development including teeth after mixing of this tablet with mg10 tablet
Ankit... | 29-Jan-2018
---
4 ★
Great product but not seen much growth yet
k.kumar... | 02-Feb-2018
---
4 ★
Good product it suit only fa few dog..like Doberman and lab ..
kishor... | 19-Nov-2019
---
5 ★
Good Product, though the price needs to be reduced.
Melvin Mar... | 11-Mar-2020
---
5 ★
Nothing to complain. It's doing its job.
nitu... | 07-Aug-2020
---
5 ★
Great tablets for strengthening bones of dog. Dog loves it. An great price much lower then MRP which any vet usually sells it. So much cheaper to buy online.
Nikita Plo... | 05-May-2020
---
2 ★
Everage quality
Devendra M... | 16-Sep-2017
---
5 ★
Good supplement for dogs bone development
Kamlendu... | 29-Oct-2016
---
5 ★
My dog likes and easily chew.
SANJAY Jos... | 21-May-2020
---
4 ★
Got broken tablets.At least 10% of the tabs were powder. And the rest a 20% were broken into pieces. But anyways dogs like it. So giving 4 stars
harman... | 22-Apr-2018
---
4 ★
It's Good product for dogs
Gaurav G.... | 06-Jan-2018
---
5 ★
My dogs simply love this, but I am not sure about its effectiveness
subhasis b... | 27-Dec-2019
---
5 ★
Nice product with promised qualities.
Joy Guptan... | 08-Oct-2019
---
5 ★
Its a good product my dog ate it like a treat.
Arctec9... | 03-Feb-2020
---
5 ★
Original product good for stronger bones. My pets love it.
Hilda... | 19-Aug-2017
---
4 ★
Cannot taste the product. Pet loves it.
Chandni Sh... | 10-Jan-2019
---
5 ★
I don't how it works or even it had any impact on my dog but he definitely not got any side effects due to this supplement so okay product
Neeraj... | 20-May-2018
---
5 ★
Seems to do the job. Now that my pup is 5.5 months old, Looking at his teeth makes me feel that it does work well. So its a good product. Also my pup seems to love it as I never had to even force him a little to eat this. He jumps up and down as he hears the sound of the tabs inside the box.
Nilay Kamb... | 27-Mar-2019
---
5 ★
Beapher is a brand which I highly recommend for pets ,my dogs loves it all ,I can see his teeths and bones growing strong . Highly recommended .
anirban de... | 19-Jul-2018
---
3 ★
Quite a few tabs are completely crushed and feels equivalent to the discount offered... so lesser u pay fewer tabs you receive... for now I have a couple of days where I could hv powdered calcium... not sure how to administer the dose to my pup..
harpreet... | 11-Jun-2019
---
5 ★
I have used these tabs since 2016 March. They are great. Dogs until the age of 1.5 years can be given this. I have Confirmed with the vet.
Aisha A.... | 23-Dec-2017
---
4 ★
Excellent product. Belive me!!!My pup had bleeding gum problem and there is always blood comes out of his teeth if he chewed something hardly. Sometimes he lost some tooth too. But after introducing these tablets it showed phenomenal improvement!!!! His bleeding stoped within a week!!! And he had not lost single tooth since i hd started giving these tablets. Now he have his beautiful dentition that too in a month!!!!!! I can't say much about his bones becuz i can't see it on regular basis his improvement unlike teeth but he do feel heavy after a month of use. And the great is that i didn't have to force feeding him he immediately sit attentively when i shake the bottle ;-) I'm giving 4 star only becuz it's prize is little bit high. Otherwise it's great product if your pup has chewing habit;-)
disha... | 16-Apr-2019
---
5 ★
Its a good product...i don't know any other calcium tablets so i am using it. And i tried nutrich vitamin tablets..(2 tablets is enough) Now shifting to Beaphar top 10..(high dosage requires bottle says 1 tablet for 5kg of body weight).
Aswin... | 30-Jan-2019
---