Know about Breed: Miniature Pinscher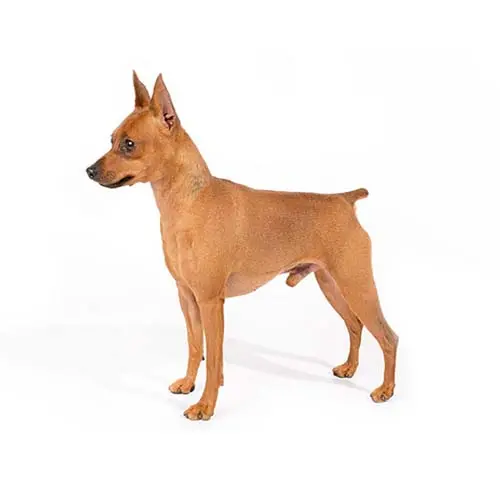 Basic Information:
Lifespan: 15 years
Origin: Germany
Temperament: Clever, Friendly, Energetic, Responsive, Outgoing, Playful
Height: Male: 25-30 cm, Female: 25-28 cm
Colors: Stag Red, Chocolate & Tan, Chocolate & Rust, Black & Rust, Black & Tan, Red
Weight: Male: 4-5 kg, Female: 3.5-5 kg
Overview:
Often referred to as spirited and fearless, the Min Pin has a high-stepping gait in which the feet of the front legs are lifted up and out with a bend at the wrist. It's an appropriate gait for him, given that he thinks he's hot stuff. He has no clue that he's a little dog classified as a Toy breed. In his head, he's a big guy. An active dog, the Min Pin is curious about everything, so safely put away all your medicines and anything else inappropriate for him to get into.
He's a good family dog and protects his people by challenging intruders who are fifteen times his size with his bold bark. Though he's quite affectionate with his family, he will never be the kind of dog who likes to ride around in a puppy purse; he'll walk and prance, thank you very much. He's a bit stubborn, sure, but his spirited temperament makes for a busy life. His complete sense of self-possession and small stature bring Napoleon to mind.
A tiny Houdini hound, a Min Pin can easily find a way out of a fenced yard and probably views the yard barrier as a challenge to be overcome. Check your fence for holes regularly, preferably daily, or you may look out your front window and see him high-stepping down the street. He's also a climber.
Because Min Pins are so small and have so little body fat and fur, they get quite cold in the winter and need sweaters or jackets that cover the chest and belly. They can get bald spots (alopecia), which doesn't help.
As with all Toy breeds, housetraining can be difficult. Begin the minute you bring your puppy home and try to avoid opportunities for him to make mistakes.
Personality:
A little dog with a big attitude and a bigger mouth, the Miniature Pinscher has no idea that he isn't as big as a Doberman. He'll charge right up to any threat, including a dog many times his size. He'll try to protect his family, chase cats out of the yard, and sound the alarm when he thinks it's necessary which is constantly. And although he'll fit in your puppy purse, he won't like it there. This is a dog with a mind and a will of his own, not an accessory.
Don't let his designation as a Toy dog fool you. Similar to his larger Terrier cousins, the Min Pin will dig, bark, and chase anything that moves, including squirrels, cats, and quite possibly other dogs. Unless he's well-bred and well-socialized and sometimes even in spite of such advantages he's prone to being a nuisance barker, suspicious of strangers, and not great with children.
Min Pins can be wonderful with older children as long as the children don't manhandle them. His activity level and energy are suited to children, and he loves being a family dog. Supervise interactions with toddlers so they don't hurt the dog or vice versa.
Because of his tendency to become protective and territorial, the assertive, proud, and stubborn Min Pin needs firm and consistent training from puppyhood on to control his nipping as well as any tendency he has to bark inappropriately. Do not let him get away with bad behavior or it will quickly become a habit almost impossible to break. Also, like many small dogs, Miniature Pinschers are difficult to housetrain; firmness and consistency are the keys to success.
The Min Pin is innately curious and likes toys that move or make noises. However, he will likely try to eat the toys at some point -- he'll disembowel a squeaky toy in no time. Flimsy rubber or plastic are not the best bets for him.
Health:
All dogs have the potential to develop genetic health problems, just as all people have the potential to inherit a particular disease. Run, don't walk, from any breeder who does not offer a health guarantee on puppies, who tells you that the breed is 100 percent healthy and has no known problems, or who tells you that her puppies are isolated from the main part of the household for health reasons. A reputable breeder will be honest and open about health problems in the breed and the incidence with which they occur in her lines.
The Min Pin is prone to some health problems. Here's a brief rundown on a few of the conditions you should know about.
As with most small dogs, Min Pins' knee caps (patellae) can be unstable and may pop out of position easily the common condition known as luxating patellas. This is one of the reasons it's essential to keep your Min Pin on the lean side.
The hip disease known as Legg-Calve-Perthes disease occurs in Min Pins. It causes a reduced blood supply to the head of the rear leg bone, which then begins to degrade. The first sign of Legg-Calve-Perthes, limping, usually appears when the puppy is 4 to 6 months old. In many cases, treatment requires surgery to remove the head of the leg bone.
Other conditions affecting the breed include diabetes, elbow luxation, congenital deafness, and eye problems like progressive retinal atrophy, glaucoma, and optic nerve hypoplasia.
Not all of these conditions are detectable in a growing puppy, and it can be hard to predict whether an animal will be free of these maladies, which is why you must find a reputable breeder who is committed to breeding the healthiest animals possible. They should be able to produce independent certification that the parents of the dog (and grandparents, etc.) have been screened for genetic defects and deemed healthy for breeding.
Grooming:
Min Pins are really easy to groom there's almost nothing to it because of their short, smooth coat. Just use a bristle brush once or twice a week. They shed an average amount, but their small size means that there is less fur shed than from a larger dog with the same kind of short coat.
Bathe the Min Pin as you desire or only when he gets dirty. With the gentle dog shampoos available now, you can bathe a Min Pin weekly if you want without harming his coat.
As with all Toy breeds, dental issues are common. Brush your Min Pin's teeth daily with vet-approved pet toothpaste and have your veterinarian check them regularly. Nails should be clipped about every two weeks; you should not be able to hear the toenails click when the dog walks.
YOU MAY ALSO LIKE